ONE MORE SUCCESSFUL HEALTH PROGRAM IN RAJA AMPAT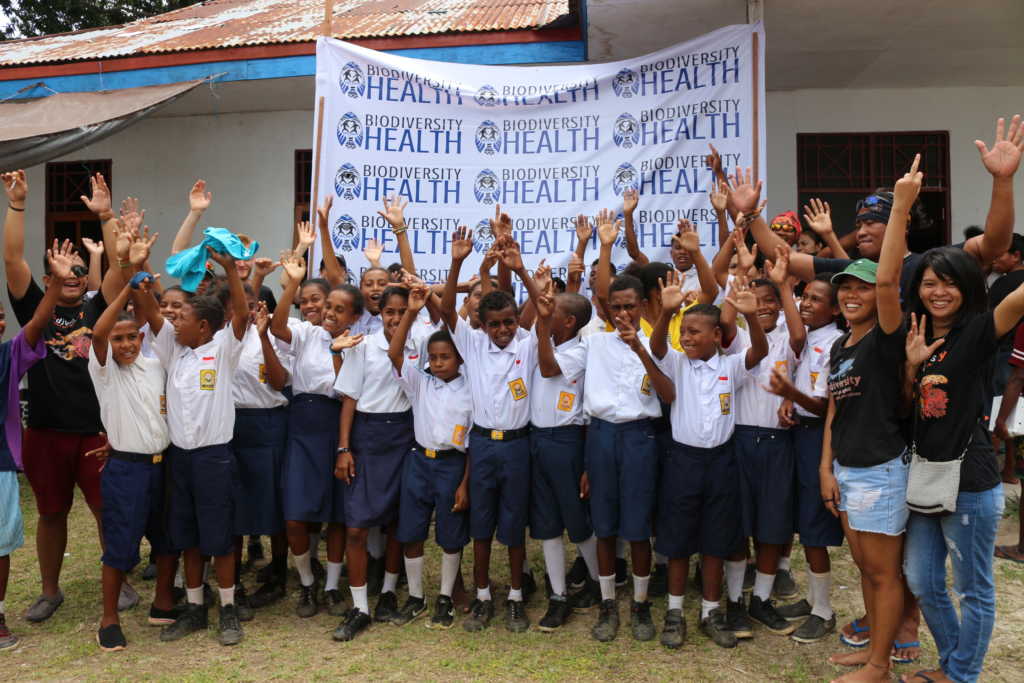 FRIWEN VILLAGERS RECEIVE THE MUCH-NEEDED FREE PROFESSIONAL MEDICAL SUPPORT
3rd HEALTH PROGRAM REACHING WIDER AREAS, THE SATISFACTION OF AN ACCOMPLISHED MISSION
Raja Ampat, Indonesia. February, the 1st, 2020.
Raja Ampat Biodiversity Nature Resort has successfully carried out its 3rd Health Program, this time in Friwen Village, in collaboration with the Public Health Department in Raja Ampat, Dinas Kesehatan Kabupaten, and the Wasai Medical Centre, Puskesmas Saonek. Friweners, children and adults, were checked-up, carefully examined, and prescribed medicines when necessary. All the medicine was donated by the Waisai hospital.
This Health Program is just one of the numerous projects that Biodiversity Nature Resort, a diving lodge situated on Gam Island, has implemented since their opening in 2013, as a result of their continued efforts on improving and expanding their long-term sustainability policy.
After two previous Health Programs in Yenbeser Village last year 2019, now it was Friwen's turn. The Principal of Friwen Village, Ms. Insen, Bamuskam Mr. Yopie, and Resort Manager, Kaylee Jamieson, inaugurated this event at 8 am, after a prayer by Ibu Lapian Rorong from Friwen Eden Church. The cooperating specialized group consisted of two doctors, one laboratory staff and five medical officers from Puskesmas Saonek. Along with them, there was one reporter from Radar Sorong Newspaper, as well as one more from the MNC News Group, a television and online media, both for the coverage of the event.
The Program focused on providing essential health services to all children and adults of the village, such as looking for Malaria -Papua is one of the regions in Indonesia where the mortality rate from this disease is still high-, or any other common illnesses like Flu; checking uric acid levels, cholesterol, blood sugar; controlling blood pressure, possible skin infections, ulcers, among other basic health parameters. It is needful to point out that most of the communities in Raja Ampat do not have the means for a medical checkup, as the clinics or hospitals are not easily accessed, or even since numerous locals are unable to afford any medical care.
Secondly, though not less fundamental, personal hygiene was highlighted. The doctors insisted on its cruciality and gave several tips to maintain personal health, from the importance of washing hands, brushing teeth and bathing regularly, as well as how determining a good nutritional education can be.
The village really came together, affirmed Biodiversity Resort's Manager. We feel the satisfaction of having achieved our goal today and we want to thank everyone for their help and support.
Finally, once all the medical examinations were finished, the doctors kindly acceded to the resort's requests and proceeded to check the staff. The event finished by 2:30 pm with the presentation of Certificates of Appreciation to all parties who collaborated with Biodiversity Resort in this event.
Raja Ampat Biodiversity Nature Resort is a diving resort and a committed company above all. They carry out a long-term sustainability policy, which addresses environmental, social, cultural, economic, quality, human rights, health, safety, risk and crisis management issues, always following the Global Sustainable Tourism Council criteria.
The fact of delivering free professional medical checkups twice a year enables the neighbor villages, Yenbeser and Friwen, to profit from a long term solution: the actual possibility of basic medical health care supplied.
Biodiversity Resort also works on diverse sustainable and responsible projects regarding education, professional training, local employment, and many more. Further information on www.rajaampatbiodiversity.com/en
Raja Ampat Biodiversity Nature Resort
Yenbeser, South Waigeo, Raja Ampat Regency, West Papua 98482, Indonesia
Social Share