THE FIRST COMMUNITY LIBRARY IN YENBESER VILLAGE HAS OPENED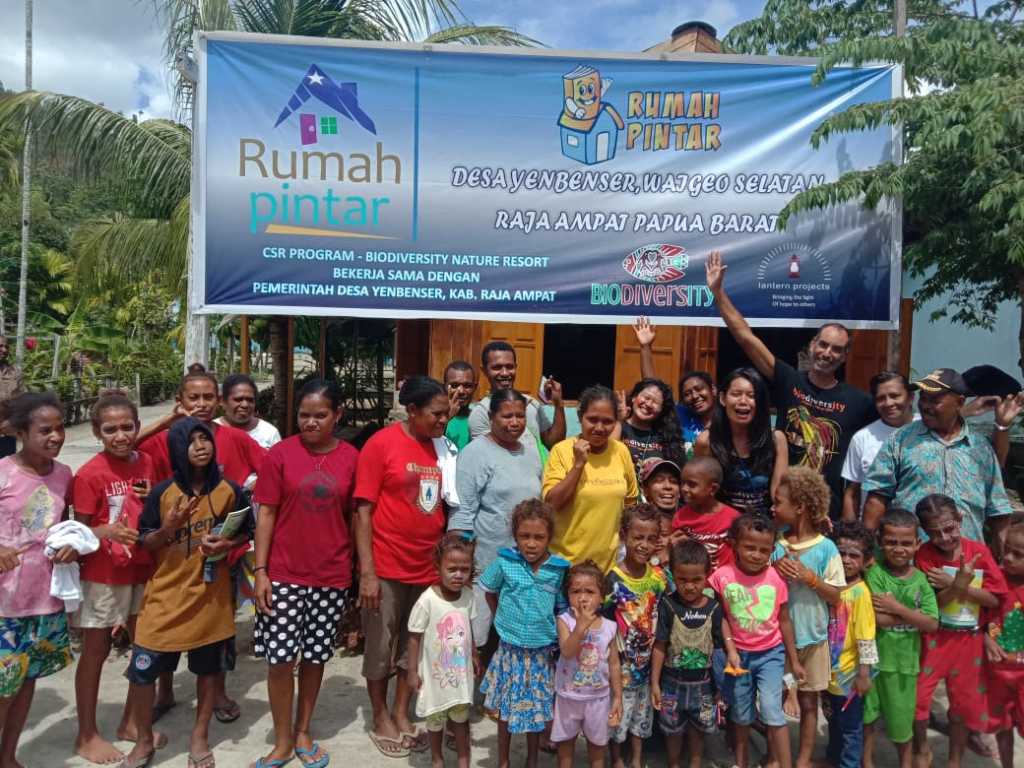 CHILDREN AND ADULTS ENTHUSIASTICALLY PARTICIPATED IN THE CELEBRATION OF THIS EVENT
THE COLLECTION OF BOOKS WAS CARRIED OUT WHILE THE LIBRARY BUILDING WAS BEING CONSTRUCTED
Raja Ampat, Indonesia. January the 4th, 2020.
Raja Ampat Biodiversity Nature Resort inaugurated a community library in Yenbeser Village last January the 4th, 2020 in partnership with the local officers. The celebration of this event resulted in a morning filled with fun games, drawing, face painting, and laughter.
Biodiversity Resort devised this project a few years ago with the main aim of providing long-term education to any inhabitant of Yenbeser, especially the younger ones.
Increasing the English language knowledge allows future generations to interact with tourists that are coming to this area -affirms Biodiversity Resort's manager-. A basic understanding of English will enable them to communicate with their guests when owning a homestay, selling products to resorts, becoming a dive guide. Good English -he continues- means safer diving practices, working in a resort with reasonable English knowledge will facilitate access to higher positions to better their standard of living.
Not less important was the purpose of involving local people in this project, so that they could feel proud of it, apart from considering themselves as an important and active part of the project.
The construction of the library has been possible thanks to the support of the village officials, who frequently cooperate with the resort's initiatives related to local infrastructure and social community development.
Simultaneously to the building works, Biodiversity Resort launched the book project, by encouraging guests to donate English textbooks, no matter old or new, when visiting Raja Ampat. The resort managed to raise a significant number of books not easily available in Indonesia. Mrs. Ksenija Olmer, one of the resort's guests, initiated an international donor in cooperation with Mr. Gail G. Uilkema, Ed.D. president of the Lantern Projects. They donated around 1000 USD collected from their supporters. Needful to mention the gratitude and acknowledge from the parties to all the donors for their help and support on this Library Project.
Biodiversity Resort continues to motivate all guests to bring and donate books. This educational project will help with the filling up and modernizing of Yenbeser Library with books for children of all ages. The next program is planned to focus on the refurbishment of Frewin Village's old library and the collection of further books so that the Frewin students enjoy equal access to English titles.
The Library opening is just one of the various educational projects that Biodiversity Nature Resort, a diving lodge situated on Gam Island, has implemented since their opening in 2013, as a result of their continued efforts on improving and expanding their long-term sustainability policy. Among others, it is convenient to highlight the free English lessons they provide and the scholarships they offer every year.
Raja Ampat Biodiversity Nature Resort is a diving resort and a committed company above all. They carry out a long-term sustainability policy, which addresses environmental, social, cultural, economic, quality, human rights, health, safety, risk and crisis management issues, always following the Global Sustainable Tourism Council criteria.
The fact of promoting these educational programs to both children and even adults from the surrounding communities allows them to increase their learning capacity and subsequently their professional abilities, which will provide them with the opportunity of reaching a better standard of living.
Biodiversity Resort also works on diverse sustainable and responsible projects regarding health professional training, local employment, and many more. Further information on www.rajaampatbiodiversity.com/en
Raja Ampat Biodiversity Nature Resort
Yenbeser, South Waigeo, Raja Ampat Regency, West Papua 98482, Indonesia
Social Share