Socialization on the Tariff to Support Environmental Service in Raja Ampat by Carla Kerstan
Socialization on the Tariff to Support Environmental Service in Raja Ampat
 by Carla Kerstan
On the 25th February 2015, the Raja Ampat government hosted a tourism socialization event at the Swiss-Bell Hotel in Sanur, Bali. Considered as the heart of the coral triangle and thus, the most biodiverse marine ecosystem on the planet, Raja Ampat has become a top tourist destination for people all around the world, in particular divers and underwater photographers. Improved management is required to circumvent negative impacts on both the environment and the local communities.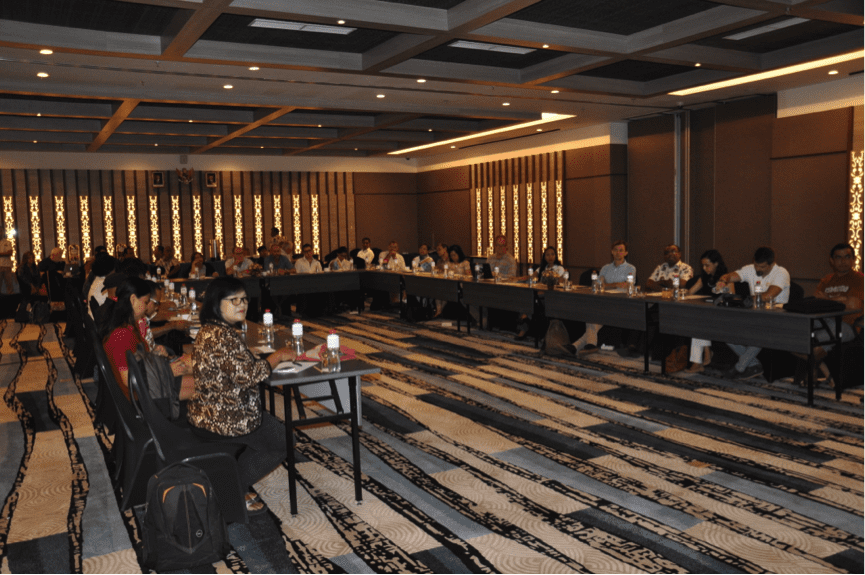 Targeted at liveaboard and tourism operators in Raja Ampat, the event presented and discussed the modified tourism entry fee, its management under the newly established Regional Public Technical Service Agency (UPTD-BLUD), and its allocation targets. The event was hosted by the Bupati of Raja Ampat, the Head of the Departments of Revenue, Marine and Fisheries, Transportation, and Tourism, as well as the Head of the Raja Ampat MPA Network Management Authority UPTD/BLUD. It was great to see the local government of Raja Ampat take initiative and reach out to the tourism operators to present and discuss revised processes. Attendees included several liveaboard owners/operators, private yacht owners and travel agents. The event was also attended by representatives of Conservation International Indonesia (CI-I), The Nature Conservancy (TNC) and Starling Resources Consultancy – organizations that have all been working in the sustainable development of Raja Ampat. Several interesting questions fueled in-depth discussions on the issues in the area, and how these may be addressed.
Some of the issues and proposed solutions discussed were:
Insufficient moorings: only two functioning moorings out of an initial 20
There was a proposal that each liveaboard donate one mooring, and government would be in charge of maintaining these. This was greatly supported by all liveaboard owners and the Head of Transportation Department voiced that there are 10 free moorings infront of Waisai that can be taken and anchored at any appropriate location. The Head of UPTD/BLUD also stated that their staff can guard and maintain these moorings.
Lack of a waste management system
Government agreed to push the development of a similar waste management system as recently implemented in Sorong, and will also push for increased responsibility of the younger generations and village communities in waste management.
Local Villages not receiving direct/equal benefits from tourism
There was a proposal that one liveaboard adopts at least one village. This mechanism would result in villages receiving direct development support from liveaboards. However, concerns regarding undefined guidelines and rules were expressed. Thus, the regional government has been asked to support this concept in developing and defining the guidelines to avoid competition and jealousy between local communities. The Tourism Department also committed to train and certify 30 young locals across Raja Ampat to receive tourists and lead village tours/tourism activities.
Disagreement regarding plans to develop a large container port in Sorong: will have dramatic environmental consequences for Raja Ampat 

Government requests NGO support to push for discussions with the Sorong government regarding the environmental damage this development plan will have on the neighboring regency of Raja Ampat.
Insufficient involvement of local Papuans in the tourism sector, in particular on liveaboards

Liveaboard operators agreed to take onboard one Papuan staff, under the condition that they are disciplined, work together with the rest of the crew and follow the boat's program.
Additional payments demanded by certain villages (e.g. Yellu)

The government has agreed to meet with the village head, discuss the issue and clarify the Raja Ampat Entry Fee System. Double payments should not be permitted.
There was a general consensus on all issues raised and all stakeholders expressed their support in tackling these problems. Further communication will be done regarding each of these issues, via the Raja Ampat Tourism Management Forum established in December 2014.
 Carla Kerstan is a Bali-based environmental biologist and consultant for Conservation International.
Social Share