"Reef Fishes of East Indies" App updated and now available for Android
Bird's Head Seascape
,
Cenderawasih Bay
,
Conservation
,
Coral Triangle
,
discovery
,
diving
,
ecology
,
education
,
endangered species
,
environment
,
Indonesia
,
Manta Ray
,
new species
,
photography
,
protected areas
,
raja ampat
,
Science
,
scuba
,
shark
,
snorkeling
,
sustainability
,
tourism
,
triton bay
,
West Papua
,
whale shark
"Reef Fishes of East Indies" App updated and now available for Android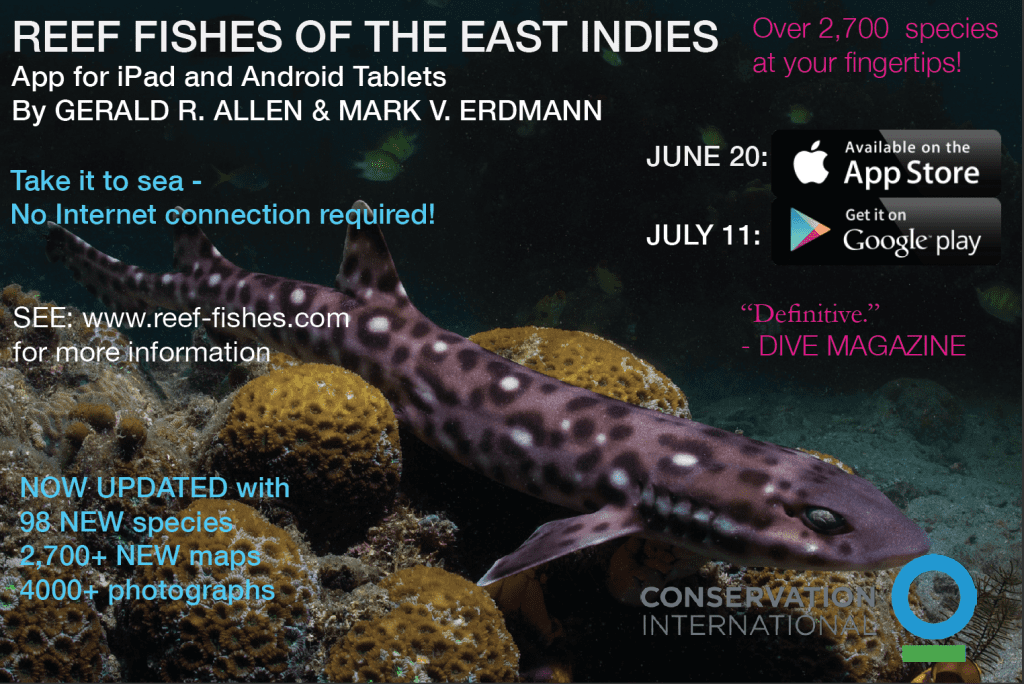 In 2012 Drs. Gerald Allen and Mark Erdmann released the long anticipated 3 volume set, "Reef Fishes of the East Indies", a comprehensive guide to EVERY fish in the region.  The book was an overwhelming success but the hefty 3 volumes were far too cumbersome to accompany a traveling diver or researcher.  Therefore in 2014, Gerry and Mark released an iPad app, which is perfect for fieldwork and tourists, since no internet connection is required.  Now the app has seen it's first update.
Ninety-eight, yes folks 98, newly discovered species are included for a grand total of 2,748 species covered!
The revised app contains new distribution maps for every species and includes over 4000 images with multiple life history stages for many species.
Additionally the app, originally only available for iPad, is now downloadable for Android tablets.
This is the ONLY fish ID app you will ever need to identify every single fish encountered throughout this vast region.
Future periodic updates will be made available automatically at no cost.
Accessing the app is a snap.  For iPad, click on the Apple App Store link, for Android, click Get it on Google Play.
Note: the only difference between the apps is that for Android there is only one app but, due to space considerations, the iPad App contains 3 interlinked apps.
Get this invaluable resource now and leave your books and the weight behind!  Gerry and Mark have got you covered!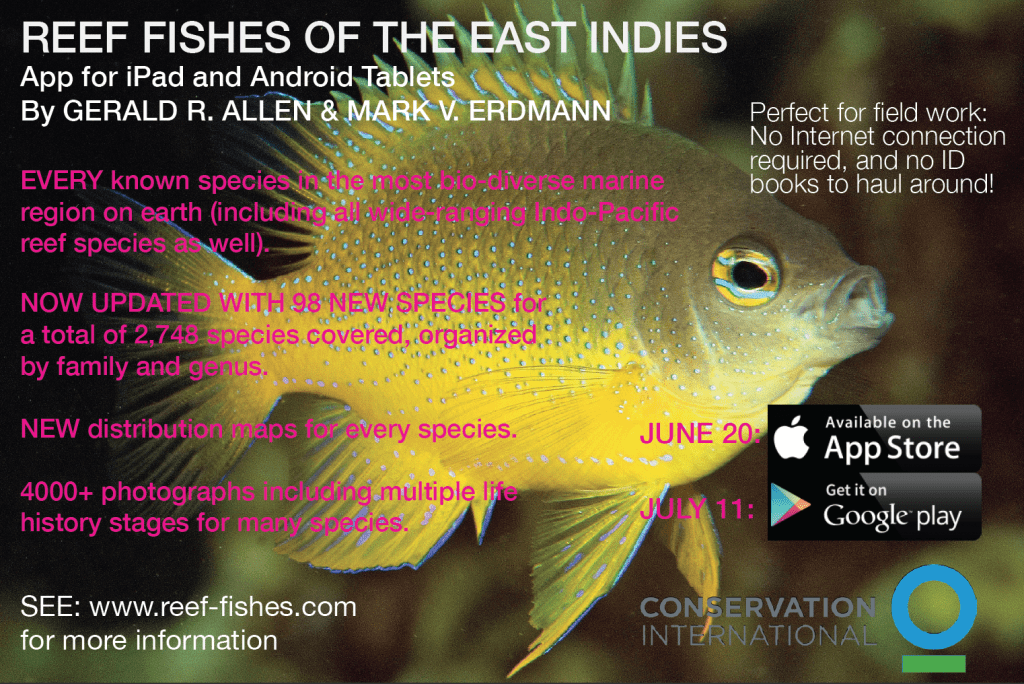 Dr. Gerald (Gerry) R. Allen is the world's leading tropical marine ichthyologist.  He is the author of over 400 scientific articles and 35 books.
Dr. Mark Erdmann is Conservation International's Vice President of Asia Pacific Marine Programs. Though now based in New Zealand after 23 years in Indonesia, he is still intimately involved with the Bird's Head Seascape and frequently disappears into its remote corners for weeks on end….where he is now is anyone's guess!
Social Share