Leonardo Saleo: True Conservation Hero by Laure Katz
Leonardo Saleo: True Conservation Hero
by Laure Katz
 Five years ago, CI lost a true conservation hero. Leonard Saleo, a leader in both the indigenous Papuan community and the CI-Indonesia team, was murdered March 1, 2010 when he stood up to a coordinated gang of illegal loggers poaching on his ancestral lands.
 Leo was a vocal, impassioned, and highly respected traditional leader in Raja Ampat, within the Bird's Head Seascape. Leo came to work for CI in 2005 because he wanted to be part of an organization that would stand up for the rights of his community against outside and illegal exploitation of their resources. He worked tirelessly to protect his communities' ancestral lands and seas from a steady onslaught of illegal and destructive fishing, logging, and wildlife poaching activities. He helped form one of Raja Ampat's first community patrol systems, proudly guarding the reefs. I remember him joking that he would drive Triton himself out if he tried to fish on his community's protected reef. You see, these reefs were for their children, he would explain.
 That incredible bravery ultimately cost Leo his life. It is a level of sacrifice that few of us ever consider possible as part of our work, but a real threat for many working in the field.
 His death was tragic, but Leo's legacy lives on. The patrol team he helped build is one of the most effective MPA patrol teams in the world. In the past month, this web site featured a story about how an illegal vessel captured by the Raja Ampat patrol team was then sunk by the ministry of marine affairs and fisheries in a demonstration against illegal fishing.  https://birdsheadseascape.com/conservation-science/indonesian-government-sinks-vietnamese-shark-poaching-boat-creates-new-dive-site/.   Destructive fishing in Raja Ampat and the surrounding BHS has been almost eliminated, illegal poaching is down 90%, and fish, sharks and ray populations are starting to recover.
 Leo's legacy also lives on through the seven children he left behind. Although most people at CI never had the opportunity to meet Leo, when the news spread of his murder, our family rallied. In less than one month, CI staff and friends around the globe raised $40,000 for the Leonard Saleo Memorial Fund to support the education of Leo's children. I was never more proud to be part of the CI family then the day we presented Leo's children with the scholarship fund.
I am happy to report that five years later, all seven of his children are thriving. Four have gone to university or technical colleges, an opportunity rarely afforded by Papuan children. The younger three are still in school and aiming to follow in their siblings' footsteps. Leo's widow, Nelce Omkarsba, expressed her gratitude, "I am very grateful to CI for taking care of Leo's children. Thank you for the education funding that has been given, so my children can go to school."
 My hope is that Leo's memory becomes an integral part of CI's history. He was someone who epitomized the very best of what we are as an organization— he passionately defended the rights of the most vulnerable, he optimistically dreamed about a better future for his children, he worked to form a team that operated with respect, he stood up to the corruption of illegal logging with deep integrity, and of course, he was unbelievably courageous, even at the very end.
 Let us take a moment in our busy days to remember Leo and the other unsung heroes within CI and across the planet who are willing to sacrifice everything to guard the nature we all depend on, so that all our children have a better future.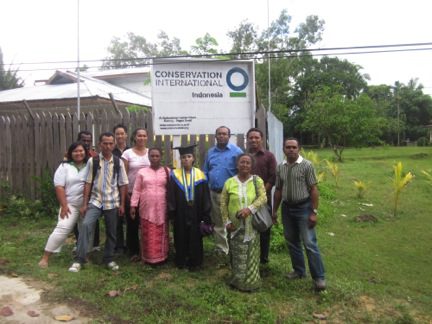 Sonya Saleo, Leo's second daughter, celebrated her graduation with the CI team in Sorong in 2012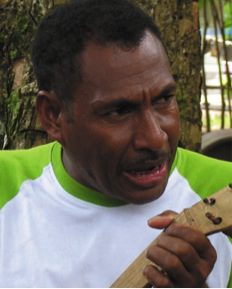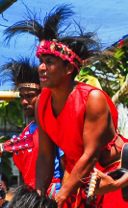 Leonard Saleo, a musician, could often be found with an instrument playing a traditional Papuan song.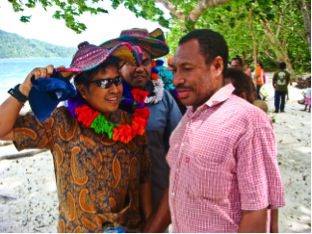 Leonard Saleo explains his new patrol system to Ketut Putra and Alberth Nebore at the launch of the Dayan Patrol Station in 2009.
Laure Katz, Director of Conservation International's Seascapes Program
Social Share