Child Aid Papua: a three-fold approach; Part 1-Education
Administrator's note: Since their humble beginning in 2018, we have posted a number of stories about Child Aid Papua (CAP) and their three-fold approach for the betterment of the children of Raja Ampat, which focuses on Education, Conservation and Healthcare.  (Just do a search on the BHS website for those stories!).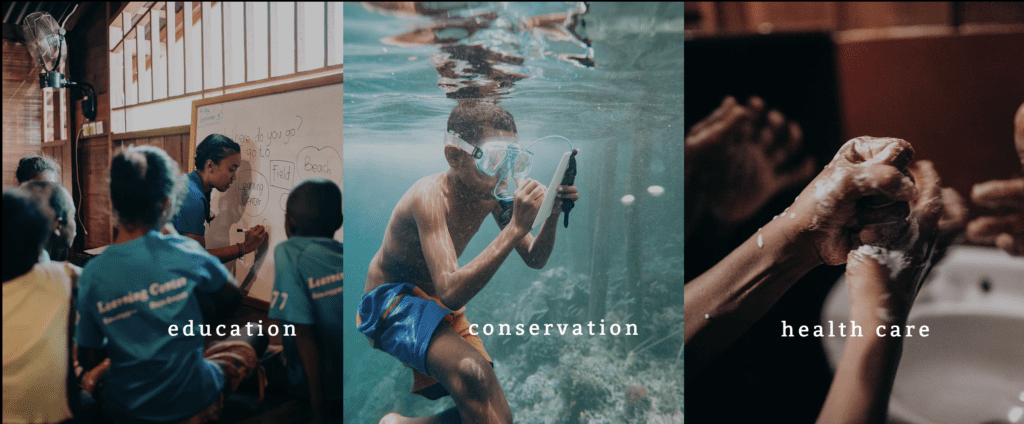 Raja Ampat, the picturesque gem of Indonesia, is known for its unparalleled marine biodiversity and breathtaking landscapes. Yet, behind this natural wonderland lies a challenging truth – the lack of access to quality education for the local population. In a region where tourism thrives, it's disheartening to note that the majority of tourism operators are managed by non-local individuals, with most of the workforce hailing from outside the area. This situation has arisen due to the region's struggle with poverty, educational limitations, and malnutrition. However, amid these challenges, a ray of hope shines brightly in the form of the Child Aid Papua Foundation.
The focus of this post will EDUCATION.
Beacon of Hope
The Child Aid Papua Foundation is on a noble mission to improve the lives of the children and adolescents in Raja Ampat. Since its inception in 2018, this organization has been dedicated to providing essential support to the most vulnerable members of this community. Their vision revolves around the belief that every child, irrespective of their circumstances, deserves a chance to thrive and reach their full potential.
Do you know that West Papua is considered one of the most uneducated areas in the world? Relative poverty, especially in remote regions, is very high!  This means that West Papua's children and adolescents have little or no future prospects.
Here at the facts and figures:
West-Papua has, with 0.61,

the lowest HDI

(Human Development Index) in Indonesia – one of the lowest in the world


The absolute 

poverty rate is

27%

Teacher 

absenteeism

 is extremely high

Future prospects are very low
Key Focus Areas
Child Aid Papua Foundation doesn't limit its efforts to a singular domain. Instead, they have strategically diversified their programs to address the most pressing needs of Raja Ampat's children. Their key focus areas encompass education, conservation, and healthcare. They collaborate closely with local communities to identify specific needs and tailor interventions that promise to bring about a significant impact.
Revolutionizing Education
One of the most prominent initiatives of the Child Aid Papua Foundation is their dedication to revolutionizing education in Raja Ampat. Through their education programs, they provide free access to quality schooling, scholarships, and mentorship opportunities. Their objective is to ensure that every child has the means to pursue their dreams and stay in school.
In 2020, the foundation achieved a significant milestone by establishing an official Bilingual Junior High School and Vocational School specializing in Marine and Eco-Tourism. Now, with 25 students aged 12 to 17, hailing from 7 different villages in Raja Ampat, these young minds are now receiving high-quality education in a bilingual environmental school. The foundation also offers them a dormitory facility, ensuring their access to education is unhindered.
In 2022, CAP was chosen as the official education partner of Raja Ampat UNESCO Global Geopark, because they continuously deliver contextual education about Raja Ampat's geo-diversity, bio-diversity and culture-diversity to their students.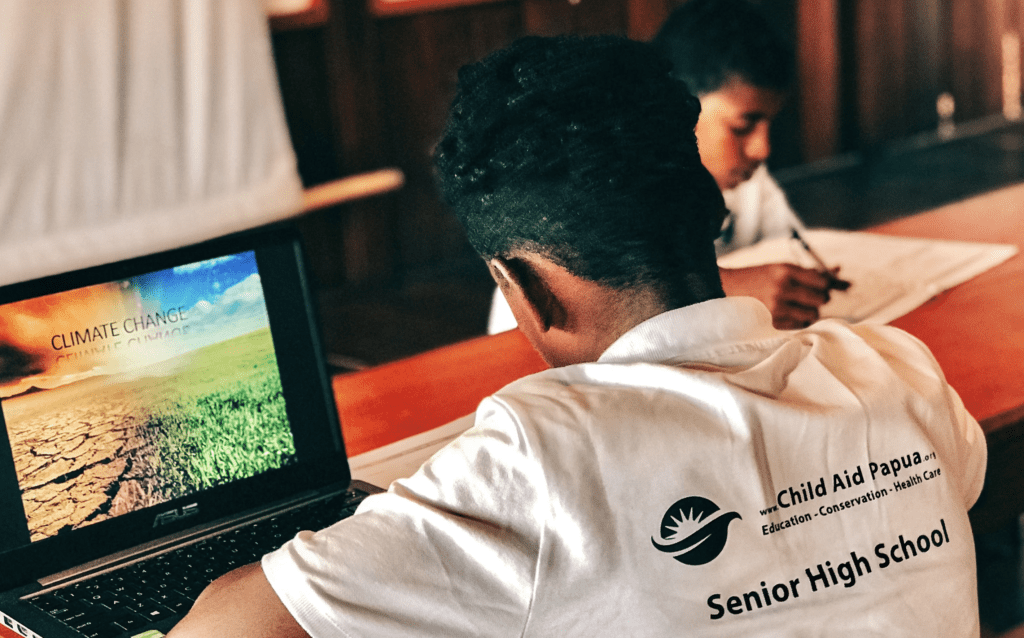 Overcoming Education Challenges
One of the primary reasons for the low quality of education in Raja Ampat has been teacher absenteeism and a lack of understanding among educators. Students often pass national exams without truly grasping fundamental concepts, resulting in a lack of reading comprehension and basic numeracy skills. This gap has forced the local tourism sector to depend heavily on non-local employees, as few locals possess the necessary skills and knowledge.
Child Aid Papua Foundation's Solution
Recognizing these issues, Child Aid Papua Foundation's school focuses on the specific needs of Raja Ampat's youth – language proficiency, IT skills, and eco-tourism knowledge. Their contextual curriculum is meticulously designed to equip students with the knowledge and skills they need for their future. The results speak volumes, as demonstrated by their successful graduates. Students like Melando Mambrasar, who secured a scholarship to study hospitality at one of Jakarta's top private universities, and Edy Sauyai, who embarked on his career in the Raja Ampat tour and travel business, highlight the promising potential these young talents possess.
Not only formal education, Child Aid Papua also provides training and mentoring for Raja Ampat's local tourism operators. CAP has officially been assigned by the Tourism Department to provide English training for Raja Ampat guides.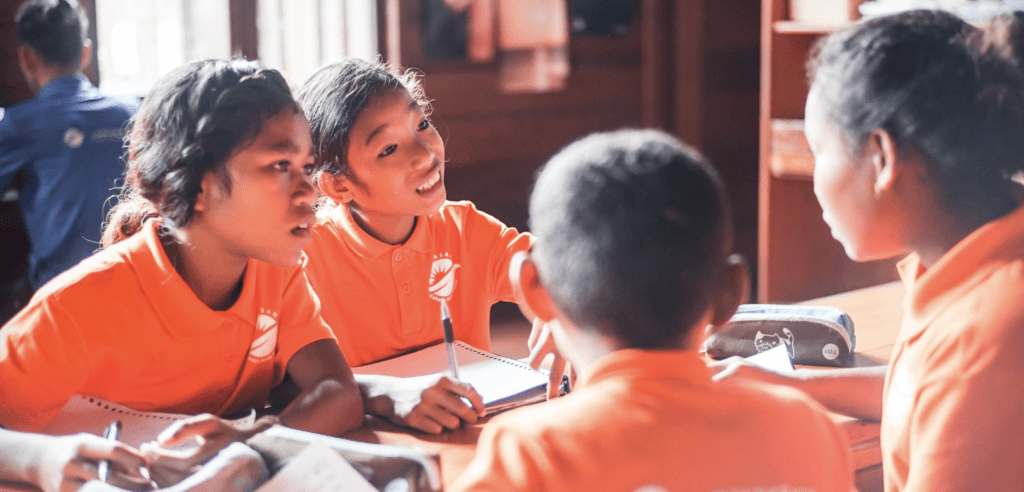 A Vision for the Future
Child Aid Papua Foundation envisions a brighter future for Raja Ampat. In the next five years, they aspire to see more local heroes emerging in the sustainable tourism industry, playing vital roles in their community's development. By providing these children with the right education and skills, the foundation is sowing the seeds of a sustainable and prosperous Raja Ampat, where the locals are the champions of their own destiny.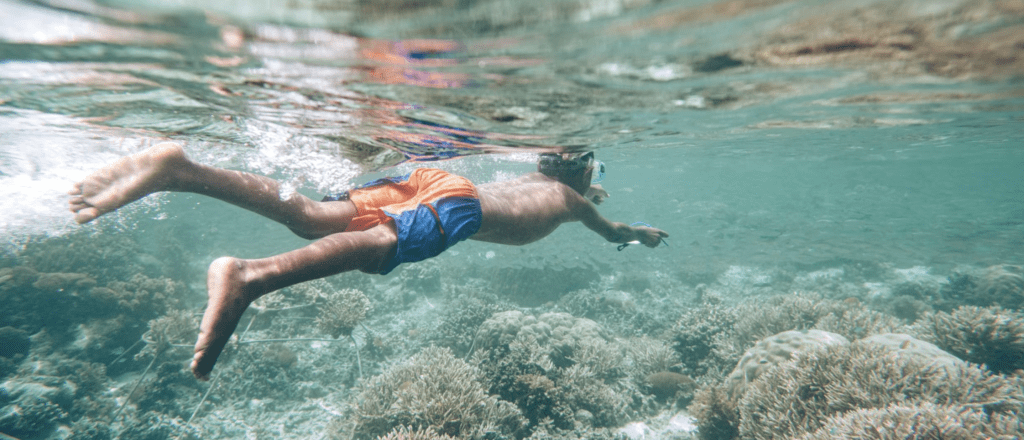 Conclusion
Child Aid Papua Foundation is a testament to the power of education and community engagement. Through their tireless efforts, they are nurturing the future local heroes of Raja Ampat, empowering them to take control of their destinies and ensuring the sustainable development of this extraordinary region. With the foundation's commitment, the future of Raja Ampat looks brighter than ever, where local talents will be at the forefront of the region's continued success in the tourism industry.
As you can imagine this is a huge undertaking, which requires continual support.  If you believe that education is a key factor to the future of Raja Ampat there are numerous ways you can help.  A small investment makes a huge difference. Visit the Child Aid Papua website to learn more.
Social Share