Triton Bay's "White Rock Fall" site updated & named changed to Batu Jatu by Burt Jones
Triton Bay's "White Rock Fall" site updated & named changed to Batu Jatu
by Burt Jones
On a recent trip to Triton Bay we dove a site, White Rock Fall, which we "discovered" on our initial survey of the area back in 2007; long before our guidebook, Diving Indonesia's Bird's Head Seascape was released (2011).  Although we have visited TB numerous times since, we had never dived the site again.  One afternoon Andrea Duggan, our cruise director on the liveaboard Dewi Nusantara, suggested we give it a try.  Before entering the water, however, she told me the GPS for the sweet-spot of the dive was in error.  She also said that recently visiting liveaboards had changed the name to Batu Jatu to better reflect the description of the site.  (In Bahasa Indonesia, Batu Jatu means Falling Rock.)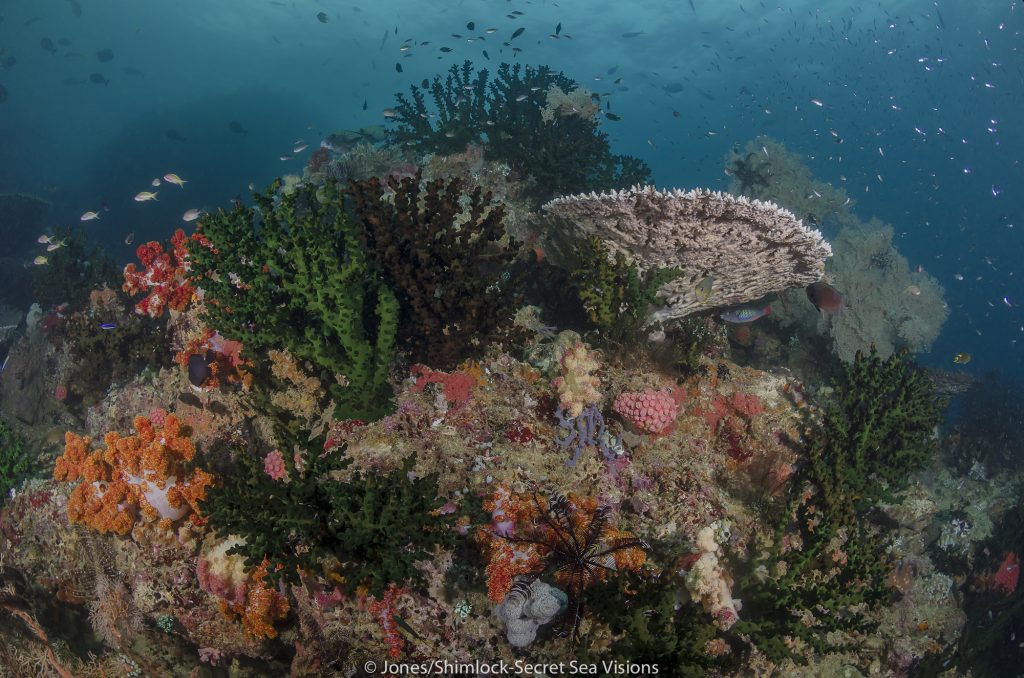 Although located on mainland West Papua, Batu Jatu is quite close to the mouth of Selat Iris and conveniently located near other frequently dived stellar sites in the area.  Indeed our original GPS was over 150m E of the proper entry point and the sweet-spot of the dive.  The new GPS coordinates are S 03 53.785  E 134 06.292.  (Note: The Map entry has been updated.)  The site is amazing and honestly I didn't recall how incredible it was or else we would have dived it on every trip!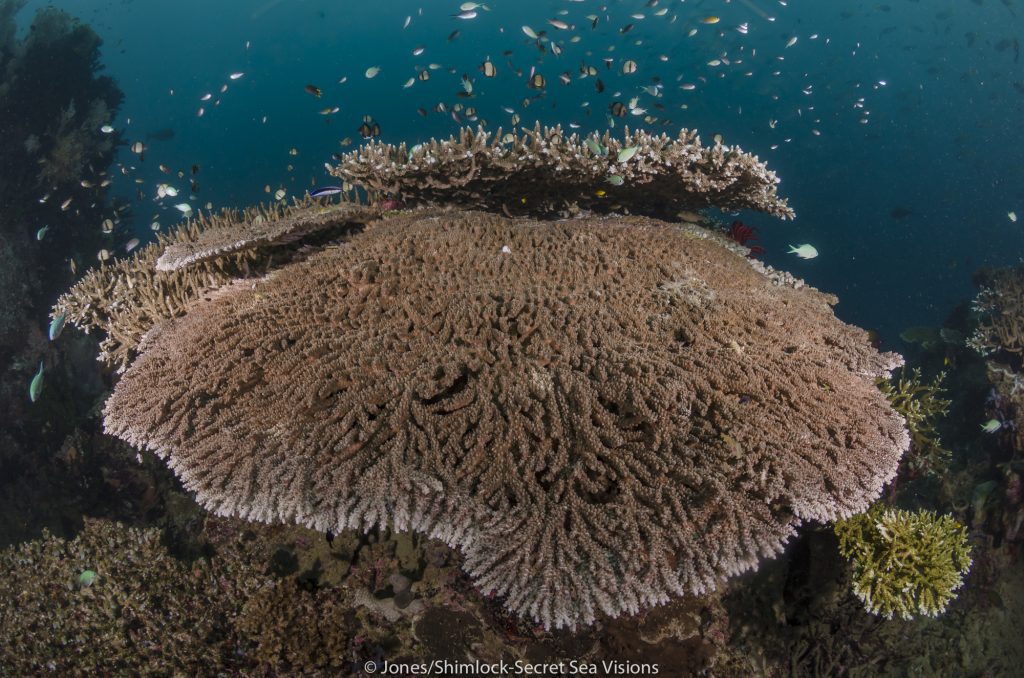 Batu Jatu is somewhat unique for Triton Bay. It is dominated by hard corals, which, due to the high concentration of fresh water in the bay, have trouble reproducing and are consequently less dominate on most of the bay's well known sites.  But the site is anything but a typical hard coral garden!  The fallen rocks (boulders actually), some the size of a bus, are covered with a forest of green Tubastrea (cup) corals and giant Acropora (table) corals.  Of course every other square inch of available space either contains soft corals or sea fans.  Plus there is great fish action.  This makes the site a definite "must dive"!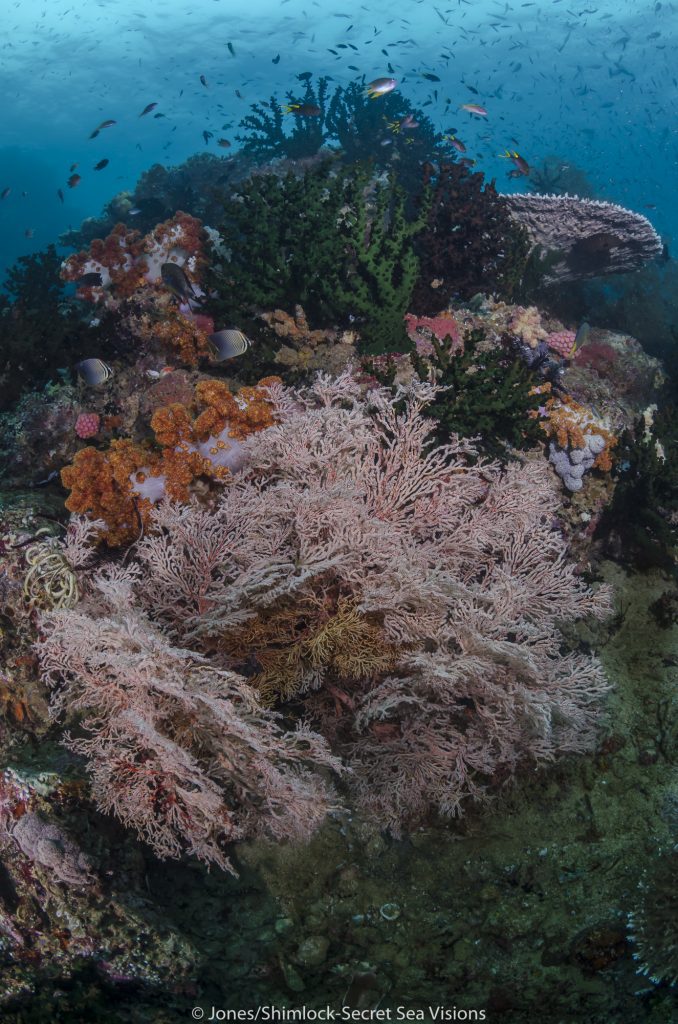 Enter the water just left (east) of the large fallen pile of boulders and swim west (or vice versa depending on the current).  The boulders begin above the surface and continue down the slope to over 30 m.  Large schools of surgeonfish,  spadefish, and trevally patrol the area.  We even had a manta come in to check out the divers.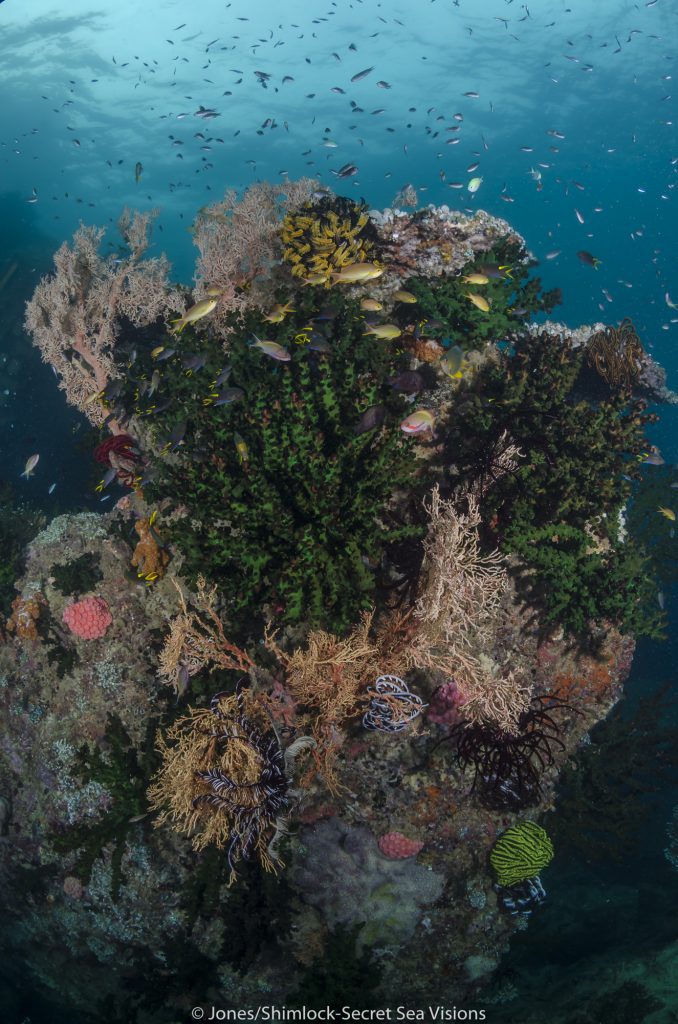 Diving Triton Bay is always surprising, even when you think you have already "been there and done that".  Happy Diving!
Maurine Shimlock and Burt Jones are marine life photojournalists. They have dived extensively in Indonesia and throughout the Bird's Head.  They are this website's co-creators and administrators.  To view more of their work visit their website, Secret Sea Visions.
Social Share