"Measuring Mantas: How and Why – A Novel Approach" by Edy Setyawan
Bird's Head Seascape
,
Conservation
,
Coral Triangle
,
diving
,
drone
,
drone photography
,
ecology
,
education
,
endangered species
,
environment
,
Indonesia
,
initiatives
,
Manta Ray
,
marine mega fauna
,
Marine Protected Area
,
MPA
,
photography
,
protected areas
,
raja ampat
,
Science
,
sustainability
,
tourism
,
underwater photography
Have you ever wondered how big is a manta ray? Or what is the size of a baby? The size of newborn reef manta rays ranges from 1.5–1.9 m in wingspan–roughly as wide as the length of your outstretched arms! An adult is much larger!
Deep in my mind, I never expected to fly a drone and be using this unmanned aerial vehicle as one of the primary tools for our research on manta rays. I never imagined how much a small drone would revolutionized our manta research in Raja Ampat. In our day-to-day manta surveys, our research team uses drones not only for spotting manta rays from the air, but also to obtain ID shots. NOW we can use them to measure their size and more!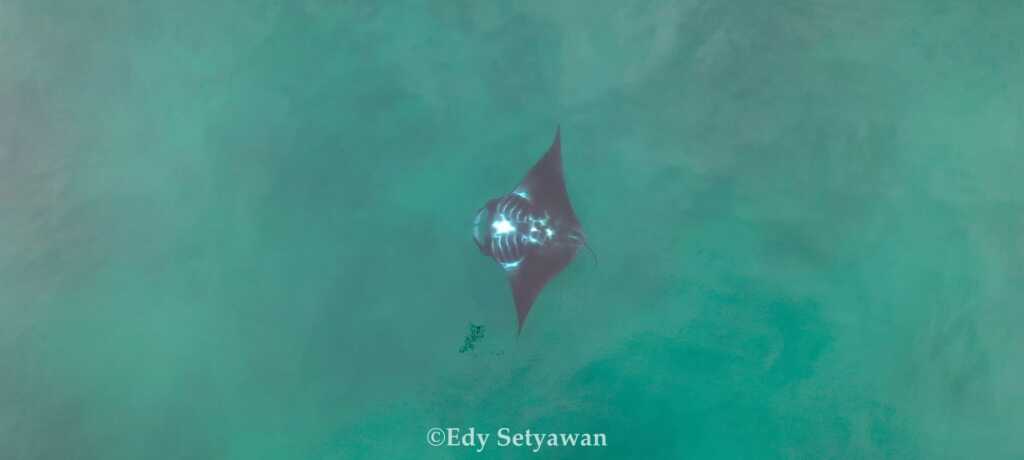 October 2018. "Here you go, Edy!" Dr. Mark Erdmann, my mentor in elasmobranch research, said as he handed me a DJI Mavic Pro. That day was another important step in my research career. (The drone was kindly donated by, MAC3 Impact Philanthropies, which has been generously supporting my PhD research on manta rays in Raja Ampat and the Bird's Head Seascape.) As I flew the drone over these giant fish that can grow up to 5 m in wingspan, I got the idea of using a drone to measure manta rays
January 2019. It was manta season, and at Arborek Island in central Raja Ampat reef manta rays were aggregating on the surrounding shallow reefs in a large numbers, up to more than 100 individuals! I flew a drone over a squadron of 20 to 30 reef manta rays feeding on the sea surface at Manta Ridge, a known cleaning and feeding site for reef manta rays. I noticed that some manta rays look bigger than the others. I also could see the mating scars of sexually mature females and the claspers of sexually mature males. The adult males looked smaller than the large females.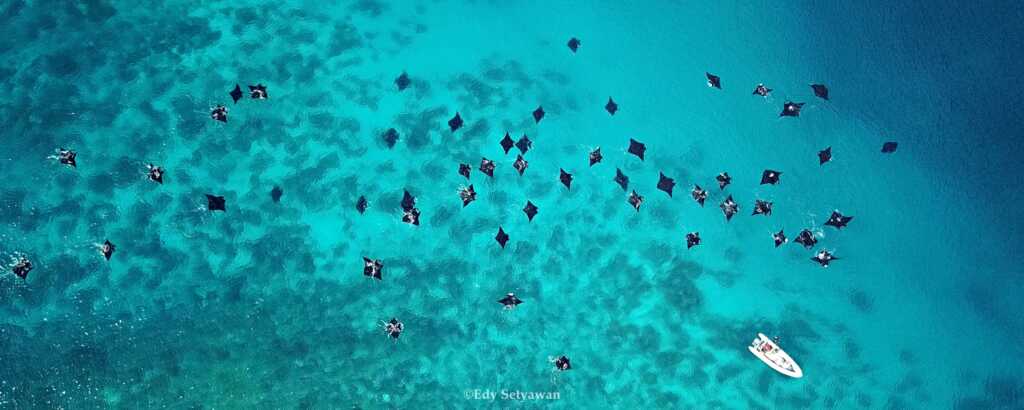 After consultations with drone experts from Duke University Marine Lab, the University of Auckland, and discussions with Dr. Mark Erdmann and Professor Rochelle Constantine, followed by field­–testing, a proper technique for measuring manta rays was finalized. A known length of floating PVC pipe would become the key to getting accurate measurements of the mantas.
January 2020. Another manta season in Arborek. We floated the PVC pipe near the manta rays that were feeding on the surface. This pipe serves as a reference scale when measuring the manta ray(s) but both the manta and the pipe have to be in the same frame of the drone's camera.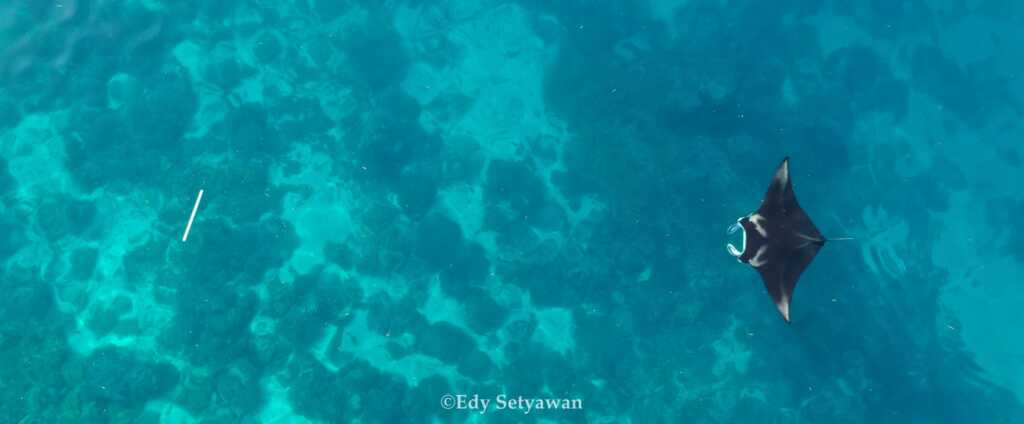 As it turns out; for manta rays, size does matter!
Getting measurements of manta rays, listed on the IUNC Red List as a species "Vulnerable to Extinction", is important to assess the population's health and critical for conservation efforts. Knowing the size distribution of manta ray populations in certain areas can also help researchers identify nurseries, in which small juvenile individuals are more commonly seen than in other areas.
Common methods of measuring manta rays (i.e., visual estimation, laser photogrammetry, and stereo-video camera systems) requires researchers to enter the water and get close to the animals, which potentially disturbs their behavior. Visual estimation, the most common method, often produces biases and inconsistencies in size estimates.
February 2022. The paper discussing this ground-breaking research has finally been published in the journal Drones, entitled "How big is that manta ray"? A novel and non-invasive method for measuring reef manta rays using small drones." In this paper, we demonstrated conclusively the value of using small, commercially available drones to accurately measure the body size of surface-feeding or cruising reef manta rays with minimal or no impact on the animals. Furthermore, the drones also help us to identify the sex and maturity of large manta rays.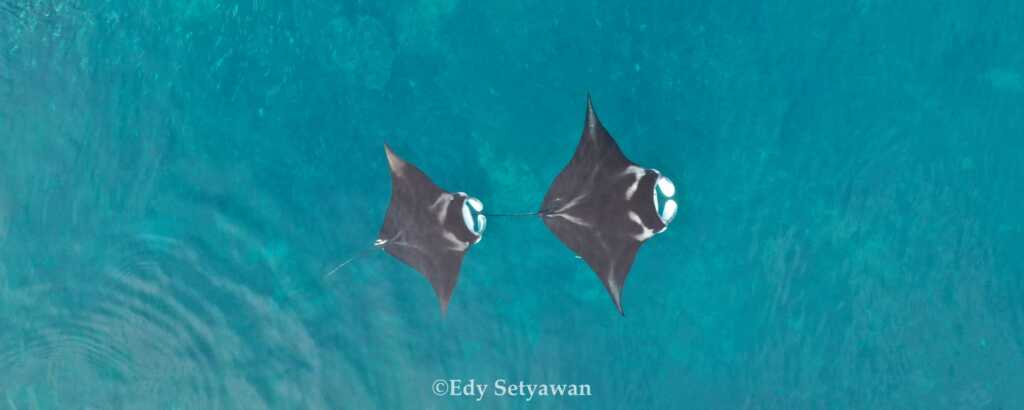 Pioneered in Raja Ampat, Indonesia, this new technique has been tested in the Hauraki Gulf by Manta Watch New Zealand and Conservation International Aotearoa where it worked well in measuring oceanic manta rays. Hopefully this method will soon be adopted in other countries for similar research purposes.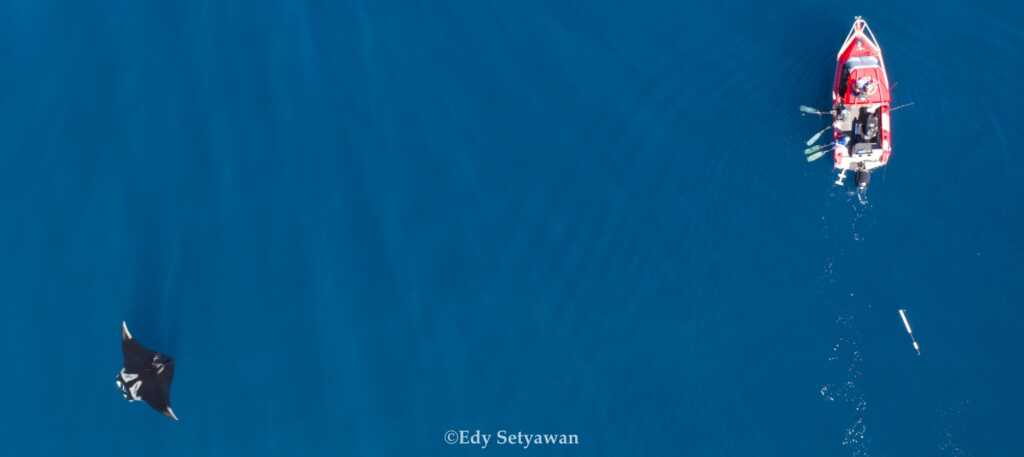 So, what are you waiting for? Get a piece of pipe, put up your drone, and start measuring manta rays!
A very cool and informative short video about Edy's novel approach for measuring mantas can be found on his new You Tube Channel, Raja Ampat Manta Conservation Research.
Written by Edy Setyawan, The University of Auckland, NZ and BHS Manta Researcher.
Edy Setyawan and his coauthors on the paper would like to sincerely thank the following donors who have generously helped support this ground-breaking research: MAC3 Impact Philanthropies, the David and Lucile Packard Foundation, Daniel Roozen, Seth Neimann, Katrine Bosley, the Stellar Blue Fund, and the Wolcott Henry Foundation. Edy Setyawan in particular would like to thank the Raja Ampat MPA management authorities (BLUD UPTD Pengelolaan Kawasan Konservasi Kepulauan Raja Ampat and Balai Kawasan Konservasi Perairan Nasional (BKKPN) Kupang), Conservation International,and the University of Auckland–Waipapa Taumata Rau for hosting and supporting this research. Finally, this research was made possible thanks to funding to Edy Setyawan from the New Zealand ASEAN Scholarship (NZAS) and WWF's Russell E. Train Education for Nature.
Social Share