Dry Fun in Raja Ampat by Jessica Hunggar
Dry Fun in Raja Ampat
by Jessica Hunggar
I often receive questions from people who are curious about what to do between dives or on non-diving days in Raja Ampat. While Raja Ampat is the ultimate destination for divers worldwide and a place where it is possible to swim with manta rays, turtle and sharks, its other attractions are also world class. This stunning tropical paradise is not just about diving. To participate in most of these activities you will need to ask your resort manager, liveaboard cruise director or travel agent to make the necessary arrangements and reservations.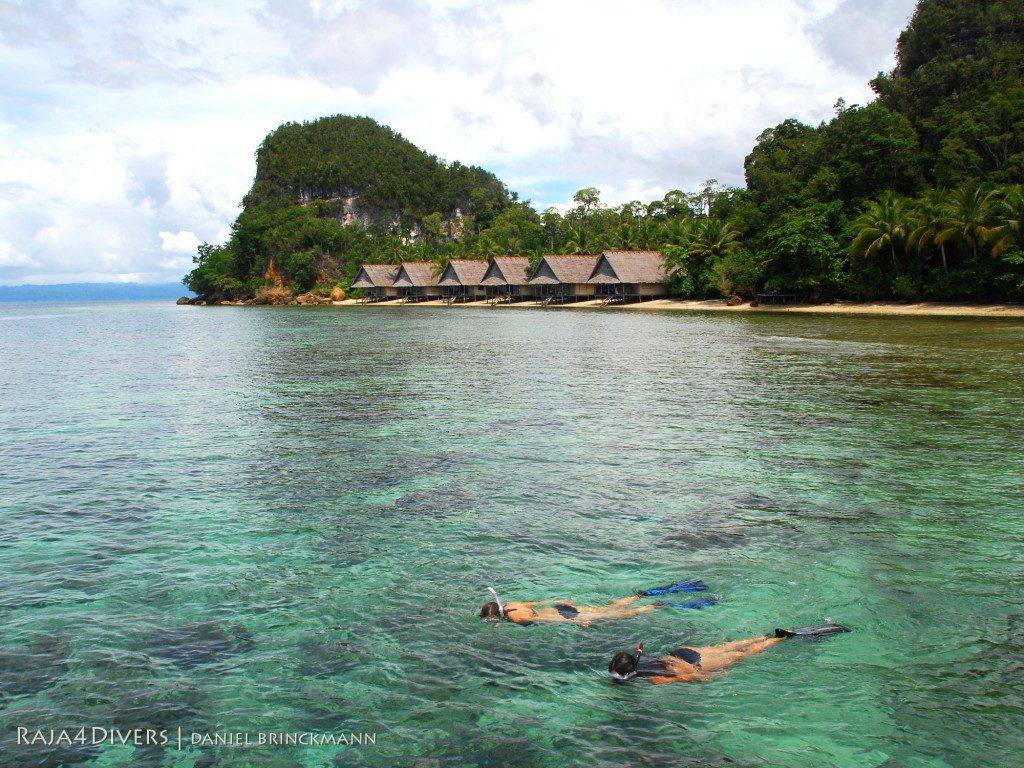 Snorkeling
Besides diving, snorkeling is the second most popular activity in Raja Ampat. Sitting in the heart of coral triangle, Raja Ampat has 7 marine protected areas with unprecedented biodiversity. Hundreds of coral species and nudibranchs, crustaceans and schooling fish can be spotted just about everywhere, even on snorkel. Snorkeling gear is available at most of the homestays and resorts, but I recommend bringing your own kit. In addition, at certain resorts you can hitch a ride with the dive tenders to snorkel at distant reefs.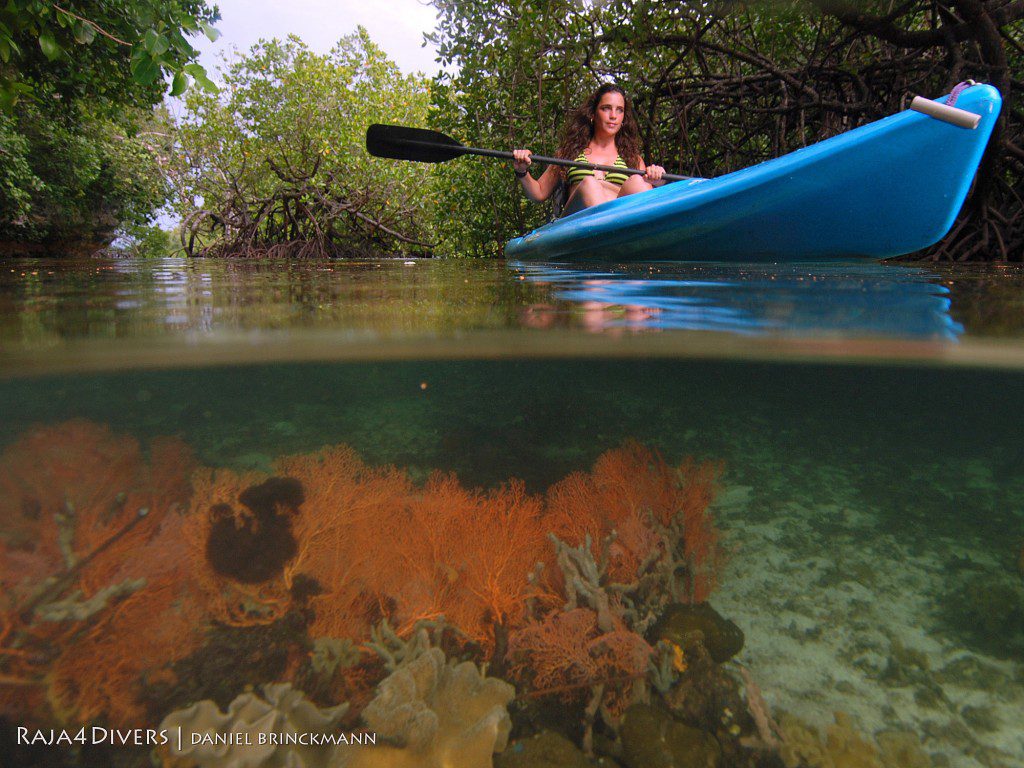 Sea Kayaking
Because Raja Ampat is an archipelago comprising over 1,500 small islands, there really is no better way to explore the islands than to kayak between them. With paddle in hand, escape the crowds and embrace the adventure of exploring remote lagoons, beaches, shallow reefs. Bring your snorkeling gear and explore beneath the waves whenever and wherever the reef looks inviting!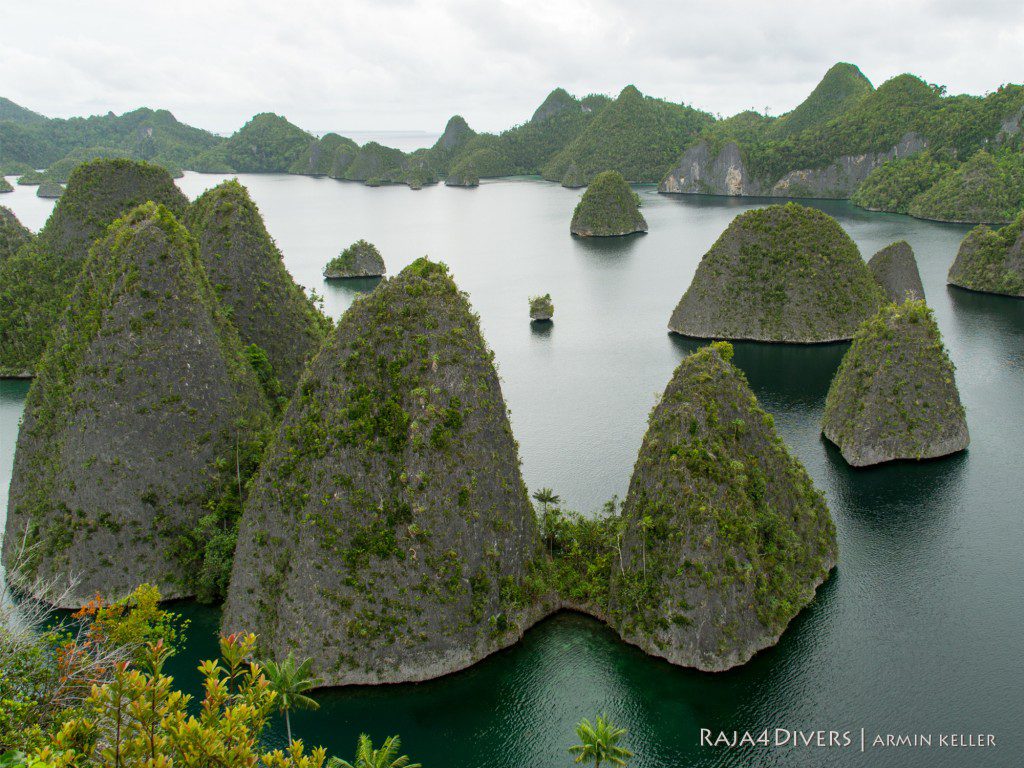 Island Hopping
There are a few boats available for island hopping in Raja Ampat. The least expensive is the Long Boat. The price depends on the route you want to take, how many days you want to travel, and the fuel that you need. Traveling in a group minimizes the cost. The most iconic and popular thing to do is to climb the peak of Wayag island/Mt.Pindito (3 hours by speedboat from Waisai – the capital of Raja Ampat). It takes about 20-30 minutes to get to the top of the hill, but when you get to the top, you will be rewarded with the breath-taking view of small limestone island scattered throughout the crystal blue water. There is also an opportunity to see baby black tip sharks that love to swim near the beach!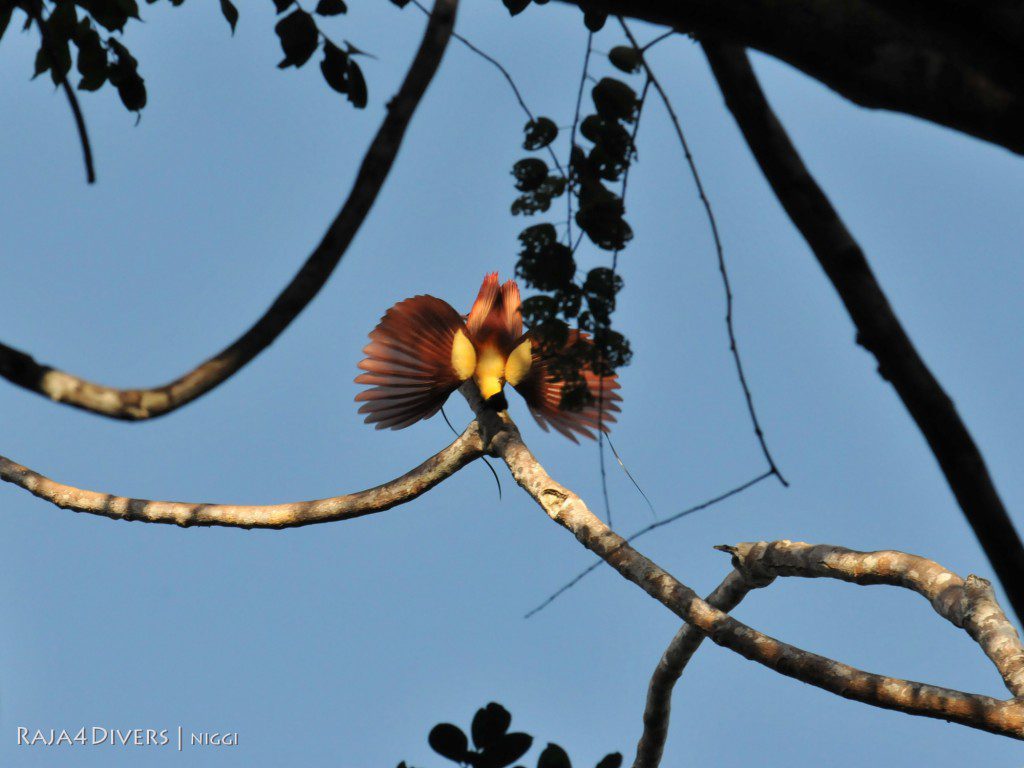 Bird Watching
Raja Ampat is a treasure trove of exotic birds, especially birds of paradise. In Sawinggrai village, you can see birds of paradise virtually every morning from around 7-8 am and the afternoon around 4-5pm. You will be guided by local, and walk through the forest for half an hour. If you are lucky you'll see the male bird dance to attract the females during mating season. This bird of paradise is colored differently than the one that lives on the Papua mainland, mostly dominated by red and that's why it's called Red Bird of Paradise. On various islands, especially in the early mornings, it is typical to hear a crazed orchestra of the beautiful melodious sounds of Butcher birds and Friar birds, Beach King Fishers, and the not-so-melodious squawks of Lorikeets, Black Palm Cockatoos, Sulphur crested Cockatoos and Parrots while Sea-Eagles soar soundlessly above the tree-tops and can be observed returning to established aeries.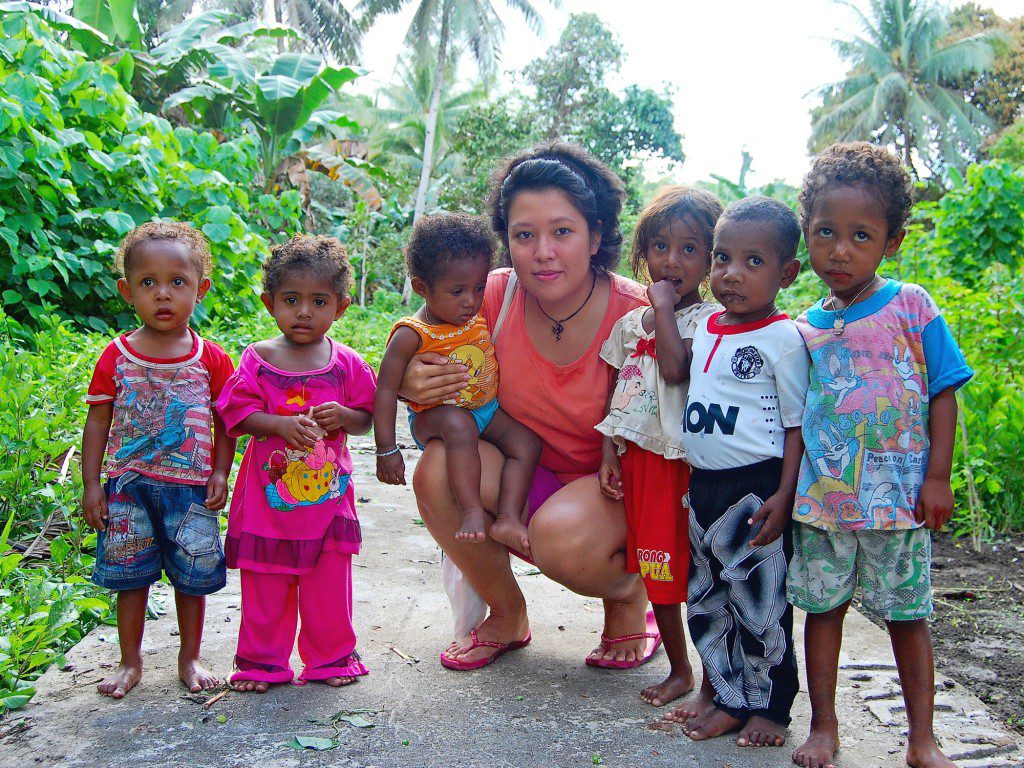 Village visits and cultural tours
Visiting villages is a great activity for a cultural experience to get to know more about how the local people live. Arborek Tourism Village located in Meos Mansar, for example, is the pioneering tourist village. It is 2 hours boat ride from Waisai and famous for its handmade grass hats and noken (a traditional Papua bags made from wood fiber). Walk around this village, mingle with the locals and you will be greeted with smiles and open arms, especially from the kids who usually will follow you and who love to have their pictures taken. A quick jump from from Arborek jetty is mandatory! Diving and snorkeling around the jetty is excellent. A short boat ride from Arborek village is Sauwandarek, and here, women produce hats and bags made of pandanas leaves. The warmth and friendliness of the local communities in Raja Ampat is another plus for all tourists who travel to his diverse destination.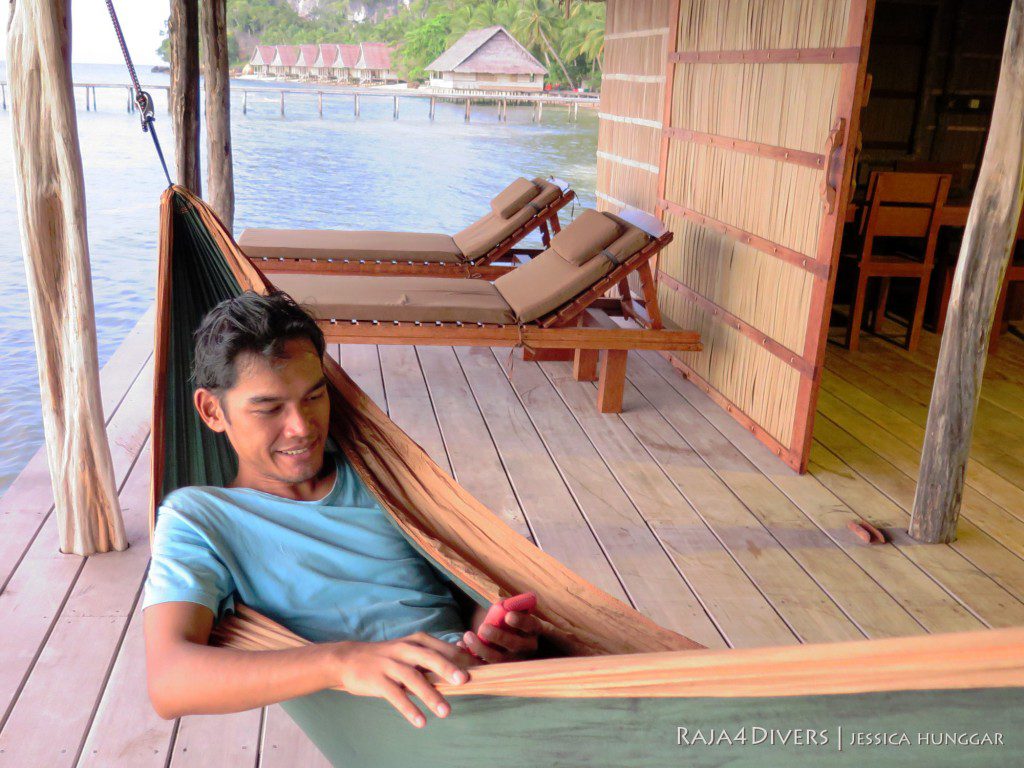 Doing nothing and just relaxing in paradise….
It's your holiday and you are free to do whatever you want including doing nothing! If you are an early riser, you can find a spot to catch the sunrise. Or simply relax in a hammock or sun-lounger on your private deck, enjoying the breeze, beautiful views and the heavenly surroundings.
 Jessica Hunggar is a graphic designer and an avid diver that's currently traveling in Asia.
Social Share