Amazing New Mommon Divesite by Burt Jones
Amazing New Mommon Divesite-"Batu Cantik"
S 03 56.492  E 132 48.229
by Burt Jones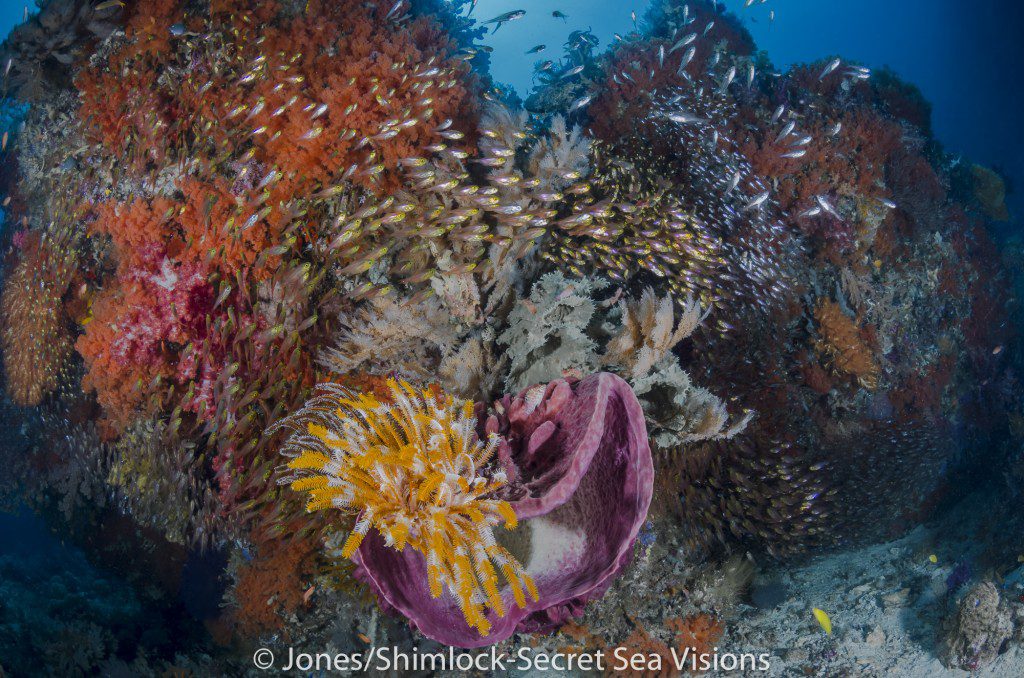 As group leaders specializing in Indonesia and the Bird's Head Seascape, Maurine and I are always looking for new itineraries and ways to improve our standard trip routes.  For a number of years we have led an itinerary that starts in Sorong (Raja Ampat) and ends, or round-trips, in Kaimana (Triton Bay).  This journey, however, involves a long, 210 mile, passage between the southern part of Raja (SE Misool) and Triton.  Divers, myself included, never want to spend time motoring when they could be diving, so a stop in the Pisang Islands and another near Mommon (halfway between Pisang and Triton) is usually the itinerary we choose.  There is an outstanding site in Pisang, plus a couple of others that are good, so this stopover is usually a hit for the long transit day.  But until my most recent trip aboard the MV Pindito, the Mommon stopover was, well…other than a visit to the picturesque waterfall…a diving bust!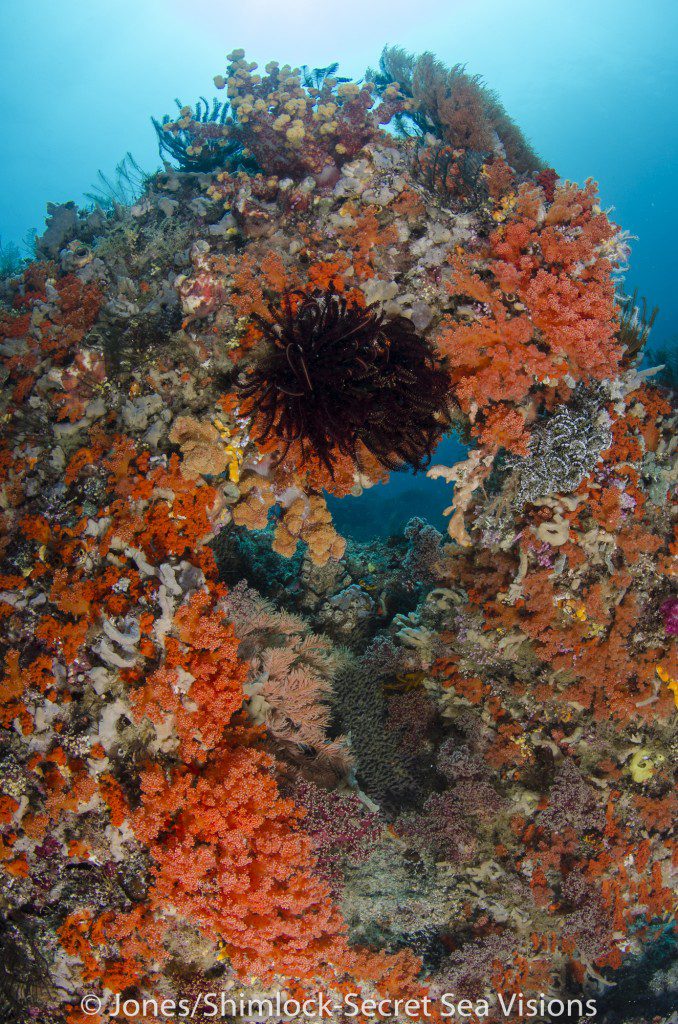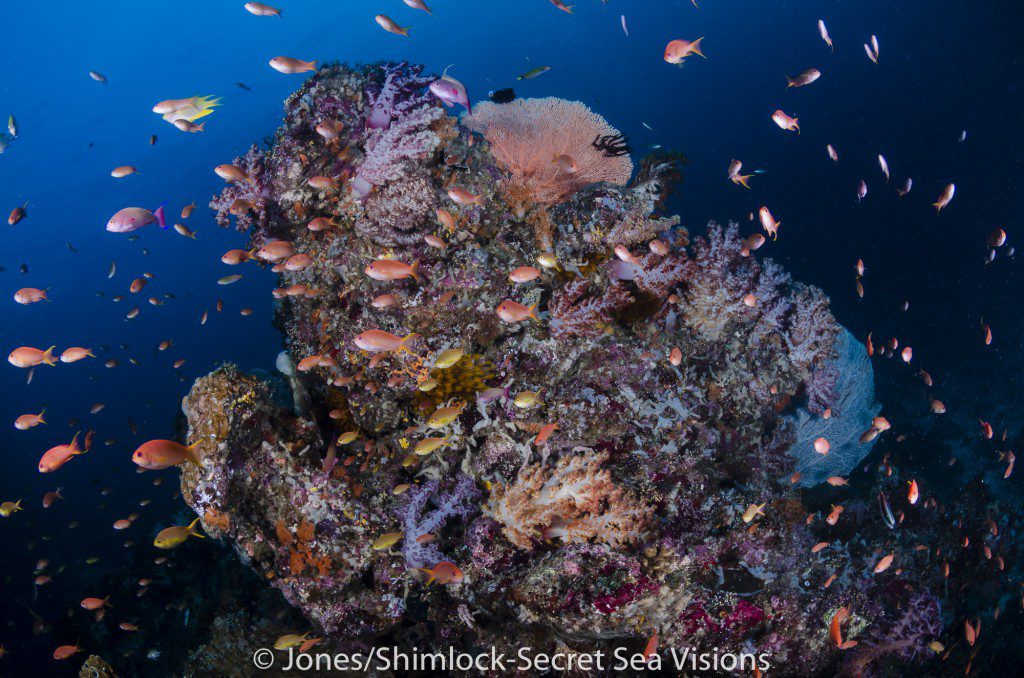 My colleagues at Conservation International suggested that I check out the small islands outside the bay, just west of Mommon peninsula.  There are a few islets in the area, so we thought we'd give at least one of them a try, offering an exploratory dive instead of a visit to the waterfall.  I have done a LOT of exploratory diving (we specialize in developing new itineraries), but frankly most exploratory dives aren't very productive, and we try to avoid doing many when we have guests onboard.  Now and then, however, we get lucky and uncover a real jewel .
Late last October our group dropped in on Mommon's outer islands. We chose the southwest corner (ocean side) of the third islet in the four-islet chain.  The reef was average at best, comprised mostly of stormed-dwarfed, low profile hard corals.  I knew this was no prize, but as we swam east, around the southern tip of the islet and headed back north along the east side into the channel between the islet and Mommon peninsula (the mainland), we began to see a few large, soft-coral covered bommies.  The reef was definitely more interesting here.  As we continued north along the east or channel side of the islet, we encountered a giant grouper, then spotted an even giant-er one. The site was hot and becoming even hotter as we swam by a series really big soft coral-covered boulders.  Draped with glassfish and sweepers, these boulders were nothing short of amazing.
Besides this vibrant reef scene, we also spotted plenty of small stuff to keep the critter fans happy.  A reef octopus sitting on a hard coral with a pair of robust ghost pipefish at its base was a delight, as were several nudibranch species.  Zillions of skeleton shrimp colonized a single sea fan, and, while the fan's polyps were retracted, from a distance the shrimp appeared to be extended polyps in feeding mode.
Everyone agreed there was no need for further exploration that day. We, happily, decided to dive the same site again before motoring to Triton Bay.  This area begs for more exploration, but for now Mommon has at least one "must stop" dive! The Pindito staff called it simply Batu Cantik (Beautiful Rock)!
GPS: S 03 56.492  E 132 48.229
Burt Jones and his wife Maurine Shimlock have dived extensively in Indonesia and throughout the Bird's Head.  They are this website's co-creators and administrators.  To view more of their work visit their website, Secret Sea Visions.
Social Share