Three Blue Park Award Winners Announced at UN Ocean Conference (July 1, 2022)
Bird's Head Seascape
,
blue parks
,
Blue parks 2022
,
Blue Sparks
,
Conservation
,
endangered species
,
environment
,
Indonesia
,
marine conservation
,
Marine Protected Area
,
MPA
,
Ocean Optimism
,
oceans
,
press release
,
protected areas
,
raja ampat
,
SavingOceans
,
SDG14
,
sustainability
,
UN Ocean Conference
,
West Papua
Note: This story appears courtesy of the Marine Conservation Institute.
The Marine Conservation Institute, founded in 1996, works in the U.S. and globally to seek strong protection for at least 30% of the ocean by 2030—for us and future generations. Our focus on protecting the ocean's most important places follows several lines of work: identifying and advocating for strong marine protected areas; improving laws and other tools to better conserve marine biodiversity; catalyzing effective conservation by recognizing and elevating the best marine protected areas as Blue Parks; and accurately reporting on global conservation efforts with our Marine Protection Atlas (MPAtlas.org).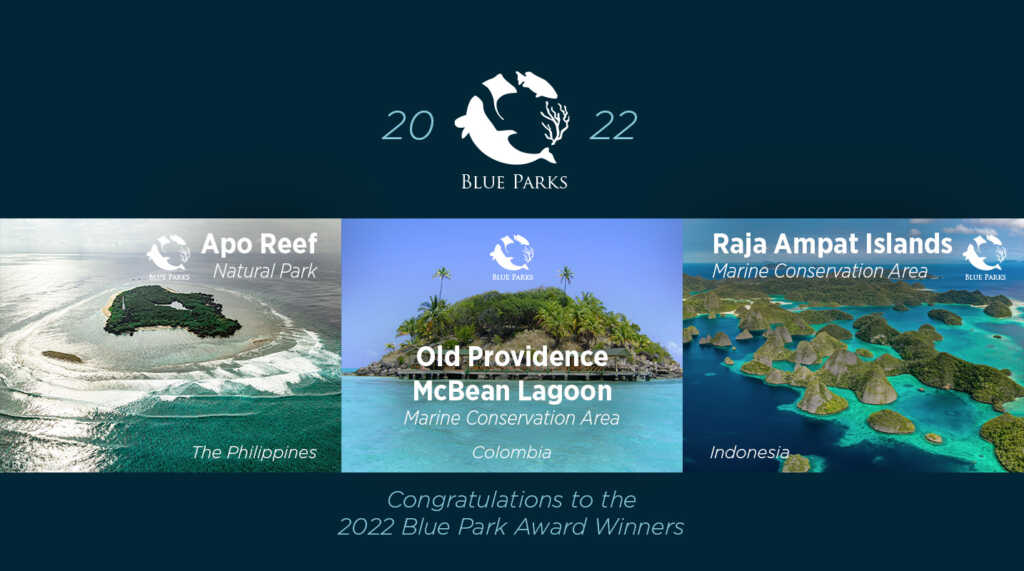 [Lisbon, Portugal, 1 July 2022]—Three marine protected areas (MPAs) won prestigious Blue Park Awards for exceptional marine wildlife conservation at the United Nations Ocean Conference today. Apo Reef Natural Park (The Philippines), Raja Ampat Islands Marine Conservation Area (Indonesia), and Old Providence McBean Lagoon National Park (Colombia) join a growing network of 24 awarded Blue Parks around the global ocean that have met the highest science-based standards for conservation effectiveness. The three new Blue Parks have a total area of 13,834 sq. km (5,342 sq. mi.). Their addition brings the Blue Park systems to a total of 1,834,171 sq. km (708,177 sq. mi) of ocean effectively protected in the waters of 20 countries.
An international council of marine conservation experts, assembled by U.S. NGO Marine Conservation Institute, made the Blue Park Award decisions using criteria based on the science of MPA effectiveness. President of the organization, Dr. Lance Morgan, presented the awards to government officials representing the three new Blue Parks alongside representatives from the council and former Blue Park Award recipients.
The Blue Park Award recognizes outstanding efforts by national governments, nonprofit organizations, MPA managers, and local communities to effectively protect marine ecosystems now and for the future. The award has been given annually since its launch in 2017. To date, Blue Parks cover nearly 2 million square kilometers of ocean, spanning 20 countries. Marine Conservation Institute's rigorous science-based criteria and an international panel of esteemed marine scientists are key to vetting and ensuring that these MPAs provide examples of the most effective marine life conservation.
"We are proud to be a part of Blue Parks, to build a strong global network of well-managed marine areas," said Syafri, S.Pi, Head of the Raja Ampat MPA Management Authority. "In Raja Ampat, we want to continue to strengthen management to promote ocean health and ensure food and natural resource sustainability for our children and generations to come."
Read the entire announcement here, Three Blue Park Award Winners Announced at UN Ocean Conference.
Social Share