Dr. Gerald Allen wins NOGI in Science-Fun facts, & the "discovery" of Raja Ampat
Dr. Gerald Allen wins NOGI in Science-Fun facts, & the "discovery" of Raja Ampat
The Academy of Underwater Arts and Sciences (AUAS) has named it's 2017 "NOGI" Award recipients.  The Bird's Head chief marine ichthyologist, Dr. Gerald (Gerry) Allen has been honored in the category, Science.
Dr. Allen has made over 1800 dives in the Bird's Head alone.
His fish survey number's are unprecedented: 1766 species in the Bird's Head, 1565  of which are found in Raja. (The most on the planet!).
He has described: 82 new species of fish in the Bird's Head.
Total number of dives?  He's not sure but says "Over 10K perhaps closer to 20K"
Impressive to say the least.  No wonder he received the NOGI!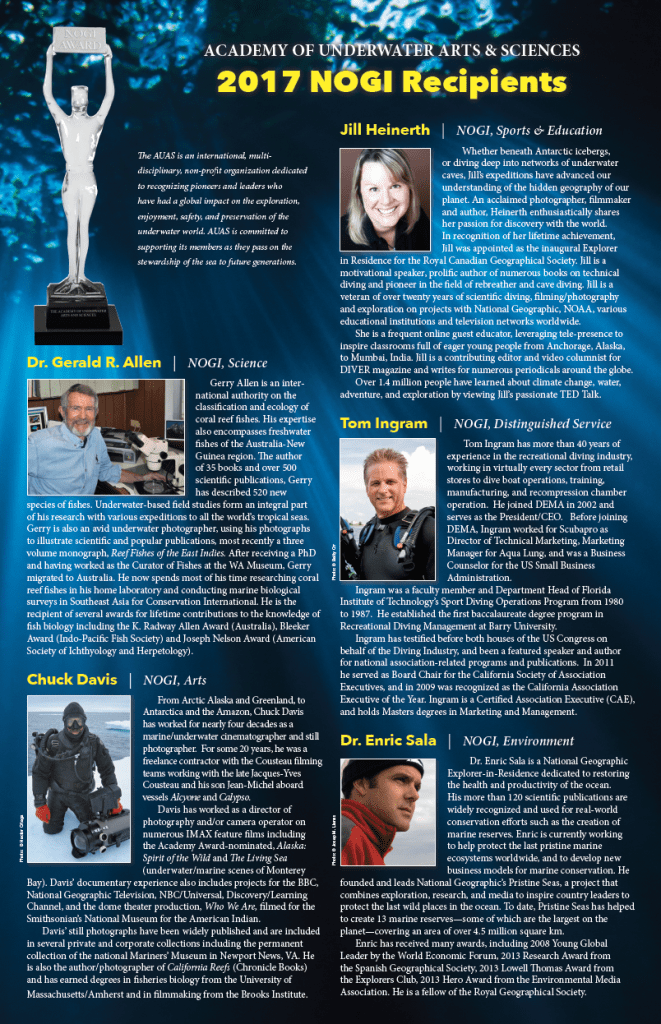 AUAS is an international, multi-disciplinary, non-profit organization dedicated to recognizing pioneers & leaders who have had a global impact on the exploration, enjoyment, safety, & preservation of the underwater world. AUAS is committed to supporting its members as they pass on stewardship of the sea to future generations. The NOGI, is the equivalent of Diving's "OSCAR". NOGI stands for New Orleans Grand Isle and the statuette given to each recipient was originally a trophy designed for the second annual (1960) New Orleans — Grand Isle Scuba Divers International Tournament, a spearfishing contest!
Dr. Allen is approachable to a fault; much preferring to be addressed simply as, Gerry.  His story is long and fascinating, but I'll be as brief as possible. I promise you won't be bored and guarantee you will learn more about him here than by attending this year's  award's ceremony.
First and foremost a scientist, with all the absent-minded, geekiness that goes with the territory, his name is not that well known in diving circles.  Within the scientific community, however, he approaches deified status. His CV runs to 46 pages!  Although the numbers will likely change while you are reading this post, to date he has identified 520 new species of fish and is the author or co-author of 36 books and 542 publications.  No other living scientist, except for his mentor, Dr. John "Jack" Randall even approaches his accomplishments.  But if you have ever dived in the Indo-Pacific and looked at the wildly popular series of ID books published by New World Publications, you will notice he is THE leading co-author of Reef Fish Identification-Tropical Pacific.
His work is historic.  One of his life long missions was to revise the very outdated volume on coral reef fishes found in the monumental 11 volume series, Fishes of the Indo-Australian Archipelago by Drs. Weber and de Beaufort. These books included all fish species regardless of habitat and was the definitive scientific work for decades.  The first volume of this tome was published in 1911 and the 11th in 1952.  Although Gerry still references these books, in his mind a revision was essential.  In 2012, along with Dr. Mark Erdmann, the comprehensive three Volume, Reef Fishes of the East Indies was released.  This work includes every fish species in the region (more than 2700) illustrated with more than 4000 images.  The books are now available as an App for iPad or Android devices, which can be updated as new species are discovered.
Gerry was born in the US, but after receiving his PhD from the University of Hawaii, he relocated to Australia in 1972, eventually becoming a citizen.  He still lives in Perth, where for 24 years he was Senior Curator in the Department of Aquatic Zoology at the Western Australia Museum.  He didn't just fly to Australia, however, he accompanied Walter Stark, aboard his legendary research vessel Torito, on a trans-Pacific journey of discovery.  Walter, BTW, was the co-inventer of the first mixed gas rebreather.  (They almost died in route but that's a bar story!)  As the Torito pulled into Cairnes harbor, they were greeted by a hefty young man in a tiny row boat.  His name was Roger Steene.  Unknowingly, Gerry had found his long time running mate, one of the world's best marine life photographers.  Both have wonderful, perhaps twisted is a better word, senses of humor. They are the Laurel and Hardy of the dive world and have done 100's of projects together.
But Gerry's life is anything but "all about the fish".  Despite his "smaller than average" stature (5′ 8″), he played for the University of Wyoming football team.  In Hawaii, during his university days, he became interested in body building, eventually winning the "Mr. Hawaii" contest.  An eight-time state veteran champion bike racer, he is passionate to the point of obsessive about the sport.  His competitive nature comes at a price, however; and he carries the scars of too many biking accidents to enumerate.  On his morning ride a few years ago, his path intersected with a Red Kangaroo, the largest terrestrial mammal in Australia.  Gerry went head over heals and broke his pelvis in two places. But being an accomplished mountaineer and one tough dude, two months later he was on a rock climbing expedition.
After retiring from his position with the Western Australia Museum he began consulting for Conservation International (CI) becoming their Science Team Leader for Marine Rapid Assessment.  Although work takes him to all tropical oceans his discoveries in Bird's Head Seascape are unprecedented.  In fact you can argue the case that if it were not for Gerry, Raja and the Bird's Head might never have been "discovered" as the Bullseye of Marine Biodiversity.
His first trip to the area was the result of a very unusual set of circumstances.  (BTW, Gerry is not just a marine ichthyologist, he also works on freshwater fishes.)  In 1998, he was hired to work on a National Geographic grant to study rainbow fishes of the inland lakes of Irian Jaya (the name used prior to being renamed Papua 2002).  But the OPM (Free Papua Movement) had other ideas; the organization had captured a team of scientists who went in before Gerry.  "Open Cage"  by Daniel Start recounts these horrific events.  Although Gerry still had a permit to study rainbow fishes, he was not allowed to enter the mainland.  Instead, and lucky for us, the government gave him permission to conduct his study on a few inland lakes in the then unheard of Raja Ampat district!
So in late 1998 he made plans for his first, three week, expedition to Raja.  He hired an expat "local", Max Ammer, a Dutch born diver based in the Dampier Strait who was interested in the region's WWII history, sunken planes and ships. Max pioneered many sites in Raja and now owns Papua Diving.  During breaks from exploring the lakes and its rainbow fish inhabitants, Gerry went snorkeling on the area reefs (they didn't have tanks).  The moment he put his face in the water he knew he was seeing something special.  Gerry counted over 400 species of reef fish on that initial trip. Remember this was on snorkel!
He returned to the area in 1999, hired Max again and, with scuba tanks, they began to investigate the region, eventually getting as far south as Misool.  In 2001, Gerry convinced CI to fund a small project.  Again hiring Max, who only had a small open boat, Gerry began to explore.  His report was convincing and not just to CI.  The Nature Conservancy saw the results of the survey, and in 2002, TNC granted Gerry the funds to do a proper Marine Rapid Assessment survey.  Gerry hired the only ship that had any experience in the region, the Pindito owned by the legendary Raja diving pioneer, Edi Frommenwiler.
On this survey dozens of new species were discovered and the "buzz" about Raja began, as other liveaboards began to enter the market.  In 2005, CI hired Dr. Mark Erdmann as their Director of Marine Programs for Indonesia.  His hiring was pivotal, and not just for Gerry.  Together they began to explore not only Raja but Cenderawasih and Triton Bays.  By 2006, with funding from the Walton Foundation, Mark began to create a conservation plan for the region.
Gerry's scientific work became the foundation for what is now known as the Bird's Head Seascape.
See I told you this would be fun and entertaining!
Burt Jones
BHS site administrator
Social Share