The doctor is in: Indonesia's whale sharks get annual check-up by Abraham Sianipiar
The doctor is in: Indonesia's whale sharks get annual check-up
by Abraham Sianipiar
This article recently appeared in Conservation International's Human Nature blog and is reprinted here with their permission.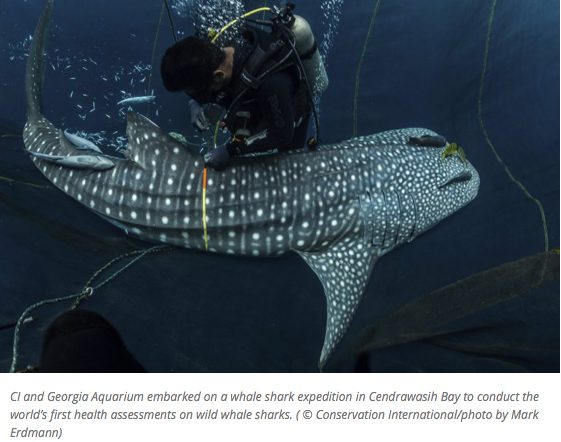 Imagine swimming with a shark as big as a bus. Now imagine trying to measure, tag and take blood samples from this shark — giving it a physical, as in a typical doctor's visit — but underwater and in less than 30 minutes.
For nine days, I helped complete the world's first health assessment of wild whale sharks, the biggest fish on Earth, in Cendrawasih Bay in West Papua, Indonesia. By studying whale shark health, I and other scientists hoped to gain insight not only into Indonesia's largest whale shark population, but also the health of the marine environment that these giant fish and coastal communities rely on for survival….
To read the entire blog click here, Human Nature.
This article relates to a previous post about this expedition.  Click here to read that article, First Successful Wild Whale Shark Health Assessments Performed.
Social Share