Small Grants Program Making a Difference by Carla Kerstan
Small Grants Program Making a Difference
by Carla Kerstan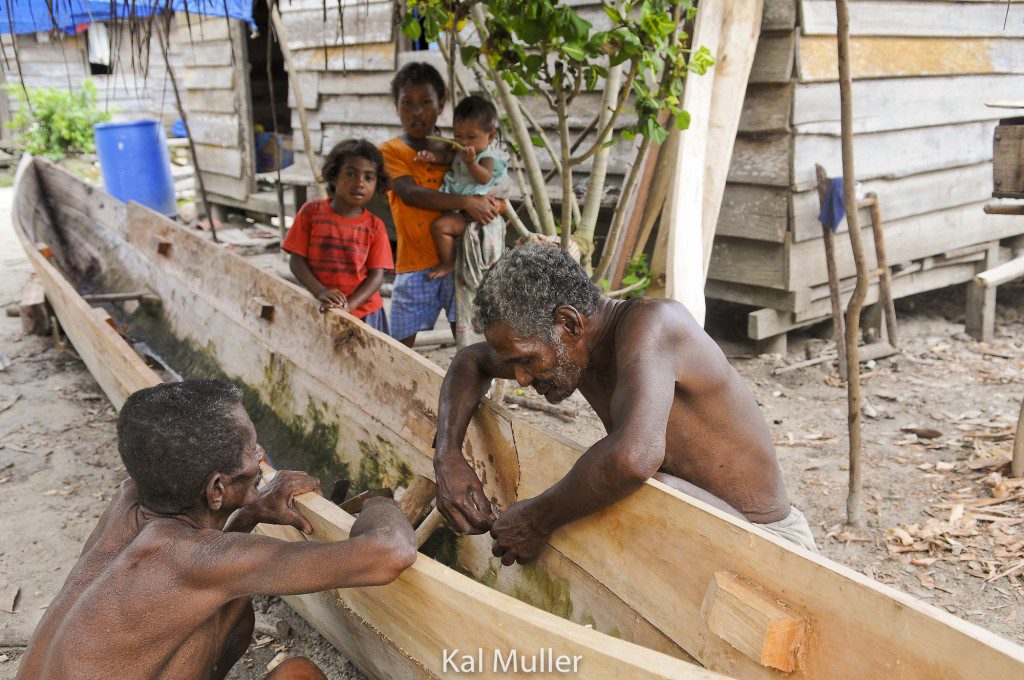 The Small Grants Program in the Bird's Head Seascape is supporting local organizations in the conservation of their globally significant marine environment and developing sustainable use of their natural marine capital.
Earlier this year, Conservation International (CI) launched its first "Inovasi" Small Grants Program (ISGP) within its flagship marine program in the Bird's Head Seascape (BHS), West Papua. With the generous support of the MacArthur Foundation, this program will provide small (< US $5,000) and medium (<US $15,000) grants to local community based organizations (CBOs) to support the conservation of the marine environment and encourage sustainable utilization of their natural marine capital.
As the heart of the Coral Triangle and global epicenter of marine biodiversity, the seascape houses over 1700 fish species and over 600 coral species. The marine ecosystem of the BHS is fundamental to the food and economic security of local Papuan communities. Over 40% of villagers in West Papua live below the poverty line and all coastal communities are heavily reliant on marine resources for food and income. While indigenous communities demonstrate acute knowledge of this biodiversity and the importance of their natural resources at the local level, the capacity for local management of these values is limited. There are significant gaps in the local and grassroots capacity to conceptualize conservation projects, work within investment frameworks, manage project finances and monitor and evaluate results. As a result, resource utilization is not always optimized and the opportunities that exist for local co-management of biodiversity and natural resources are not always taken up, or not effectively supported.
The small grants facility was specifically designed to develop and support a network of active local organizations and community groups to implement projects that contribute to the conservation efforts within the BHS Marine Protected Areas (MPAs) and develop sustainable marine resource utilization. By strengthening a local network of conservation activists, CI aims to build capacity and develop local ownership of the marine conservation program – fundamental to the long-term sustainability and success of the seascape. The ISGP will include two rounds of fund disbursements. The first phase will run from May 2015 through to June 2016. In early 2016, we expect to commence the second ISGP phase, beginning in March 2016 and ending in June 2017.
At the close of the submission period on June 30th 2015, CI received a total of 34 project proposals from local CBOs throughout the seascape. Project proposals included various subject areas from mangrove planting, turtle conservation, coral rehabilitation, to fisheries improvement and natural resource mapping. The ISGP selection panel comprised of representatives from CI, The Nature Conservancy (TNC), World Wild Fund Indonesia (WWF-I) and the University of Papua (UNIPA), conducted a thorough assessment of all the proposals and evaluated them against their alignment with the program objectives and their impact on the greater BHS marine conservation program. Collectively, the panel selected a total of 17 projects, and disbursed the first round of approved grants in August 2015.
While many local organizations have conservation experience and possess sufficient management skills for project implementation, others still require close coordination and assistance. Thus, the ISGP team has been working closely with the grantees to build capacity where needed and provide support for effective project implementation. Grantees will also receive assistance for both financial and progress reporting processes when necessary, and project sites will be regularly monitored and evaluated to ensure they remain on track.
Currently, the BHS marine conservation program is focused on transitioning management to capable local institutions and government agencies to increase local ownership. The small granting facility is a critical component of the BHS transition strategy and will be a primary mechanism for increasing local engagement in the seascape beyond the current MPA focused partners. It is also intended to build an effective granting model that can be sustained after the funding support from the MacArthur Foundation, by funding from the BHS long-term financing mechanism. By providing these grants to local conservation initiatives, we hope to have provided a platform for the local Papuan economy to grow and improve their knowledge and capacity for a more long-term engagement in conservation. We look forward to seeing the progress of these projects at the end of the year and are confident that each will have a significant positive impact on the local economy and environment!
Interested in applying for the next round of the Inovasi Small Grants Program? Please contact Ibu Dewi at dnursanti@conservation.org or Ibu Henny at hwidayanti@conservation.org
Carla Kerstan is a Bali-based environmental biologist and consultant for Conservation International.
Social Share