Memento from Fam Archipelago: A Community-based Initiative by Nikka Amandra Gunadharma & Rens R. Lewerissa
Memento from Fam Archipelago: A Community-based Initiative
by: Nikka Amandra Gunadharma & Rens R. Lewerissa
Who would argue that, for some travelers, memories from each of their passing journeys are their most precious keepsake; something that can always be 're-experienced' whenever they close their eyes.  From images of that special far away place, the amazing yet humbling feeling that filled their hearts upon remembering the beauty of one of their visits years ago; to that particular sensation sent from thousands of taste buds to their brains on their first bite of a meal they ordered in an exotic destination, all are precious.
Memories, along with their various accompanying sensations, can also be 'triggered' through several, external stimulations that serve as 'catalysts.' The ever-developing nature of audio-visual technology have made it easier for travelers to 'trigger' their memories, and to share them with their loved ones, or even to the public, through countless media channels.
If sharing via social media seems "less personal," hence less appealing to some, then perhaps a good old-fashioned souvenir might just do the trick as a 'catalyst' to draw distant memories closer to the present. Besides that, a souvenir can always be given to loved ones, and perhaps unintentionally, might just expand exponentially certain memories; thereby 'touching' other existences beyond the traveler's.
Speaking of souvenirs in the context of Raja Ampat's tourism, to date options have been very limited.  Since mid-2016 Conservation International (CI) Indonesia's Raja Ampat Marine Program along with several Partners have been developing a community-based initiative in the Fam Archipelago to produce Natural Soap and Virgin Coconut Oil (VCO).
This initiative, aims to increase the welfare of the members of the Community Group, the majority being housewives, by empowering them to actively participate in the blooming, tourism sector of the archipelago.  It's also intended to provide solid 'incentives' to constantly contribute toward efforts in marine conservation and preservation through the establishment of Fam Archipelago Marine Protected Area (MPA), declared in February 2017.  Especially important are its efforts to reduce the stress on and properly manage the needs of some members of the community toward their marine resources.
But why Coconuts?  Coconut is one of the primary renewable commodities easily found and grown throughout the regency. Besides being consumed as food or as beverages, it is also common for communities in Raja Ampat to process them into copra (dried coconut meat) used for the extraction of coconut oil. As a commodity, Fam Archipelago's organically grown coconuts possess excellent quality oil, which implies higher economic value than raw copra alone.
As a comparison, it takes about 100 coconuts to produce 20 kilograms of copra, which has a value of IDR7,000 per kilo or roughly $.50 USD (local market price per October 2017). An equal quantity of coconuts will make 65 bars of natural soap worth IDR1,950,000 ($145 USD). That same 20 kilos of copra produces about 2,200 mililiters of VCO with a total value of IDR2,200,000 ($165 USD).
Of the three villages in Fam Archipelago, Saukabu village is the producer of community-based VCO. The program began in 2011 and was initiated by Sea Sanctuary's conservation activists; the late Helen Newman, and Julien Fudge. Since 2016, their 'legacy' was passed on to CI Indonesia who is partnering with several government and non-governmental entities. Saukabu's VCO is of high quality.  This authentic product from Saukabu is available in bottles of 250 milliliters, and 100 milliliters.
Less than a nautical mile from Saukabu, the ladies of Pam village have developed an initiative to produce natural soap. This initiative began in mid-2016 with the help from Veronica Niken Dewi Ardiani–an entrepreneur, environmental activist, who is also a consultant for CI Indonesia's Raja Ampat Marine Program. Just like VCO from Saukabu, Pam's Natural Soap also uses high quality coconut oil as its primary ingredient.
After a brief period of 'research and development,' the production of Natural Coconut Oil Soap has successfully developed four variants of fragrance: Lime, Jasmine, Lemongrass, and Curcuma heyneana, an aromatic tuber related to turmeric and ginger. Pam Natural Soap comes in two shapes, square with a net weight of 100 grams, and round-shaped with a net weight of  50 grams. Besides the mentioned shapes, the Community Group also produces their soap in unique shapes and variable weights, in order to meet specific demands from homestays, resorts, and liveaboards.  These products carry the logo "Romun" (Romun is the word for shark in the local language).
Apart from local and regional retailers, the community-based coconut oil products can be purchased at the "scenic overlook" platform jetty at Pianemo, Fam Archipelago.
For further information related to Fam Archipelago's community-based products, kindly contact Rens R. Lewerissa (Rens) through this number: +62-811-4861511, or e-mail renollewerissa@yahoo.co.id.
Brochures related to Natural Soap and Virgin Coconut Oil.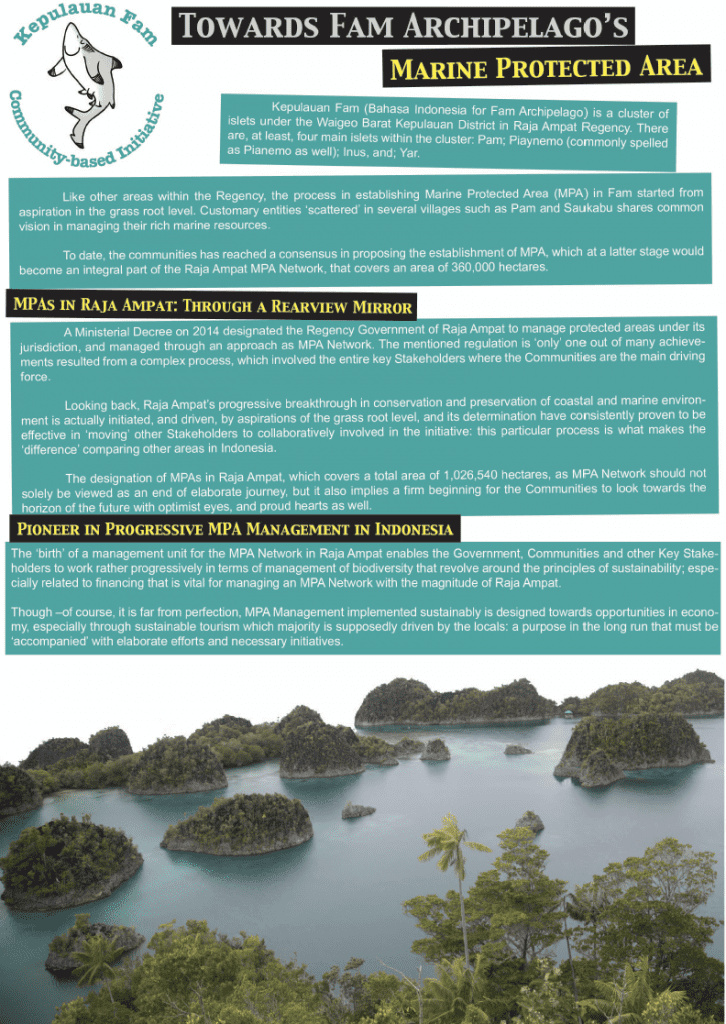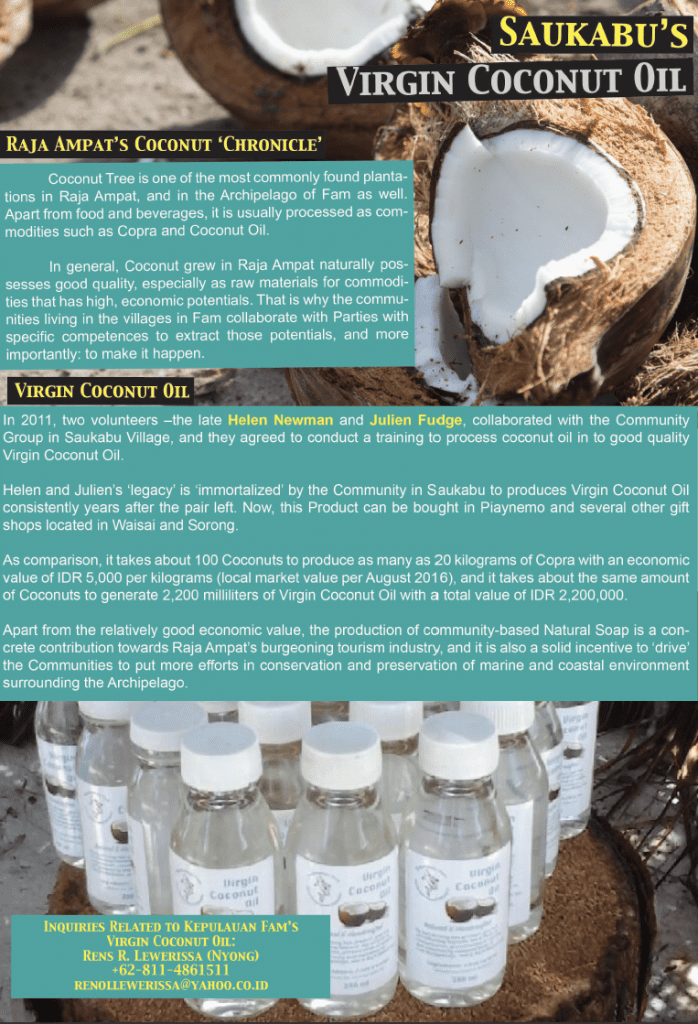 Nikka Amanda Gunadharma is the West Papua Communication & Outreach Coordinator for Conservation International, Indonesia.
Rens R. Lewerissa is the Raja Ampat Communication & Outreach Officer for Conservation International, Indonesia. His work mostly focuses on CI's program at Fam Archipelago.
Social Share