Tanya Burnett goes to the BHS…again and again by Tanya Burnett
Administrator's note: Tanya Burnett has been visiting Raja since the "early" years and she just keeps going back again and again.  Why?…keep scrolling!
Tanya is a professional photographer and her images are breath taking!  Tanya, a great friend and loyal supporter of the BHS, graces the site with a "preview" of her upcoming feature article in diving's premier publication, Alert Diver.  Look for her story in the magazine's 2nd quarter/next issue.  
Interestingly you can help make Tanya's Alert Diver article the cover story.  Alert Diver is currently running a contest to determine which image will grace the cover.  Both images are wonderful but by voting for Tanya's image you are also voting for Raja Ampat and helping spread the word of this conservation success story.  In Tanya's words, "Maybe it's the universe screaming for people to hear and listen that the oceans needs HELP and Raja has had such great success with the ongoing marine protections – now 8 MPA's marine protected areas and several No-take zones!!!!! A stellar example that we need to spread worldwide. Its a scary thought to know that only 4% of the ocean are actually protected!" Help spread the word.  Raja is special and the only way to keep it that way is to share the news, which helps encourage more protection.
Here are the choices and the link to where you can vote.  Anyone and everyone is eligible to vote, so support the conservation of Raja by choosing Tanya!  Vote Raja Ampat!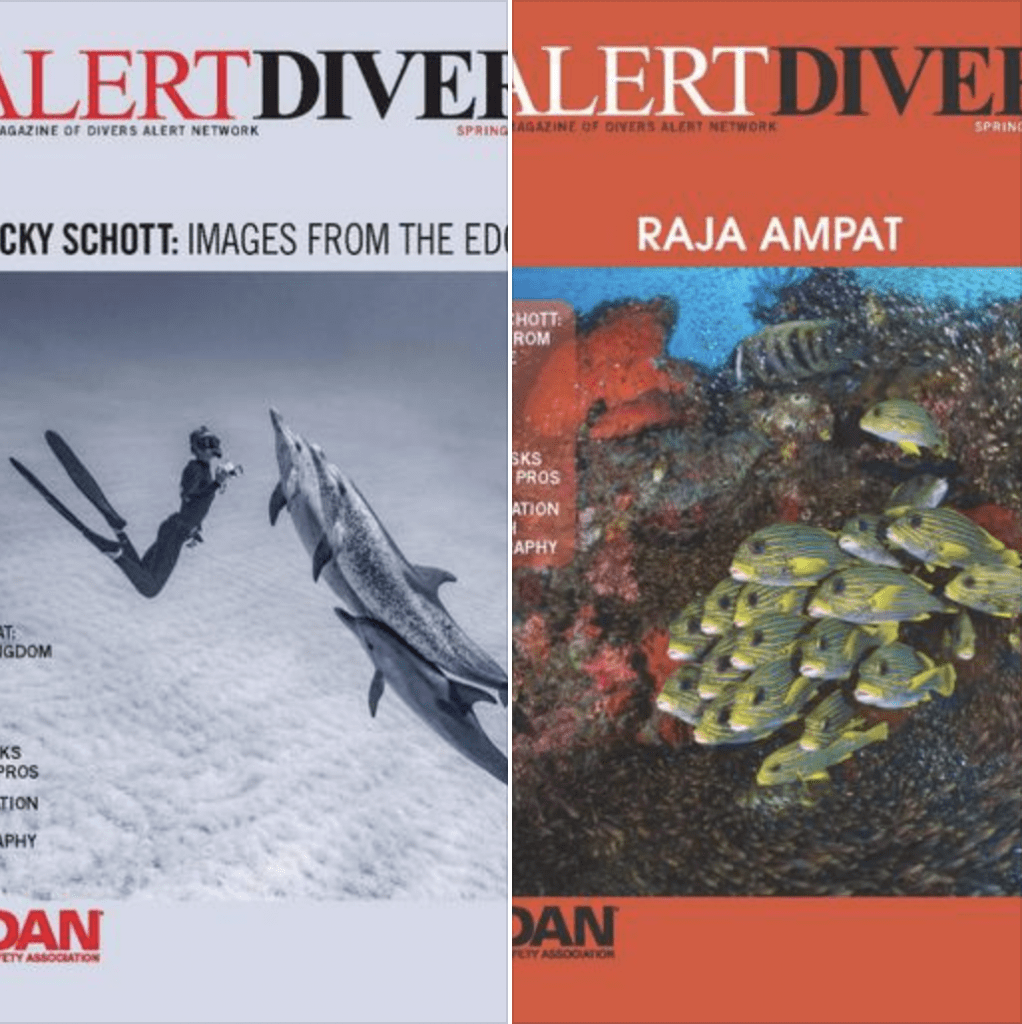 Visit http://www.alertdiver.com/ to cast your vote!
Enjoy the images but first, a few words from Tanya…
"I first slid into the seas of the Raja Ampat region in the early 2000's, at a time when just a few live-aboards and a couple of land-based resorts operated there. Every dive was a new discovery for me and only increased my thirst for more of what the area offered. While this remote haven has grown immensely in popularity over the years and we are less often the only dive boat on the horizon, there is still a sense of wonder about this special place that has continued to reveal many new amazing sites that we never visited in the early days. Raja consistently serves up some of the most colorful and species rich wide-angle underwater perspectives on the planet. The region has magical experiences in abundance along with secrets to share for those who make the journey – perhaps even more so now that protections are in place and proving successful. So almost every year I look forward to the gentle roll of a heavy phinisi schooner beneath my feet, the piercing cry of a hidden Raja cockatoo, and chance to dive in waters where very nearly anything is possible."
Divers do have to surface occasionally but that doesn't mean the scenery is any less spectacular!
We don't want you to think that Tanya's work is only about the big picture!
Big animals too!
Tanya Burnett earned a BA in Diving Industry Sport Management from Barry University and was a former owner of one of Florida's first technical dive training/retail facilities. She holds rec/tec instructor ratings from PADI, NAUI, TDI & SDI. She was part of TDI from its conception and a sales executive for Uwatec and Dräger Rebreathers. She is a professional UW photographer and writer authoring and producing images for over 100 published articles and magazine covers for the dive and travel industry. For over two decades she has organized and led dive expeditions around the globe and has recently been inducted into the Women Divers Hall of Fame. Tanya is closely involved with marine conservation groups in South Florida and the Bahamas. You can find more of her work here: www.islandexposure.us
Social Share