"Frantic Jack", a new Triton Bay dive site by Graham Abbott (with images and commentary by Burt Jones)
"Frantic Jack", a new Triton Bay dive site
by Graham Abbott (with images and commentary by Burt Jones)
Location: West Aiduma
S 03 59.018 E 134 04.974
The first time I dived here there were masses of jacks that frantically surrounded me, hence the name. Suitable for all divers though only accessible on the calm open ocean days which are not all that frequent in this area and this makes the dive site all the more special when it can be dived! Great for those who enjoy a deep dive once in a while.
GPS is at a very prominent corner of rocky headland. As always it's best to check the current, which will decide your entry point.  To look for big fish encounters head directly down to the dramatic drop off at 35m.  South of the sandy area needs more exploring here.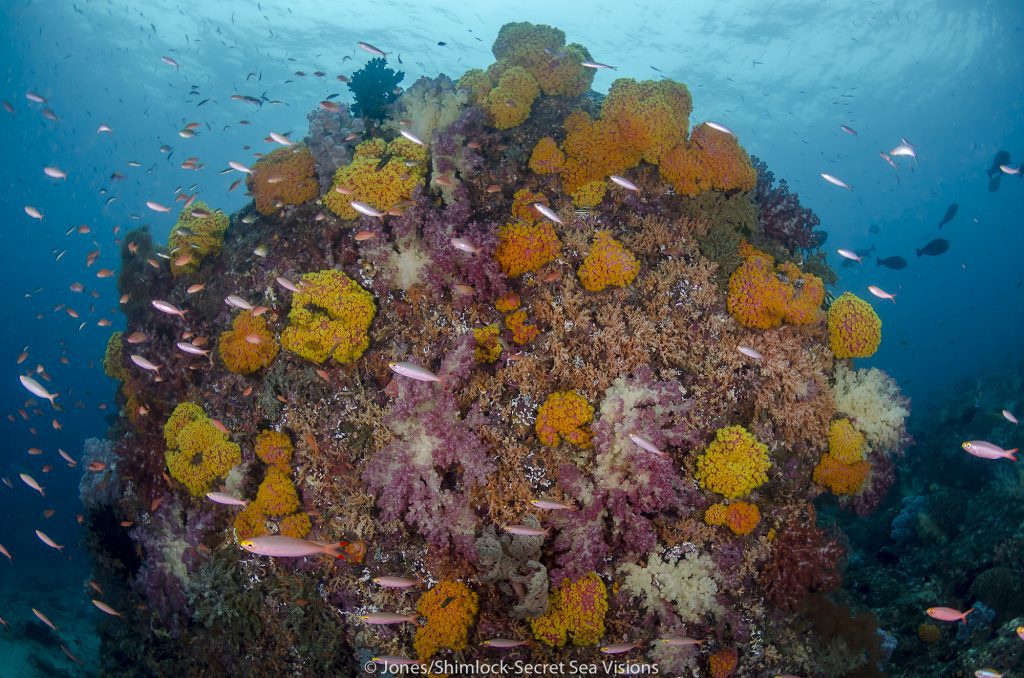 Features:
Dramatic deep drop off, good fish life, chances of larger fish life, very colourful and photogenic, colourful soft coral covered boulders in shallow depths, gigantic porites hard corals, a swim through that breaks the surface.  Colourful look throughs – please do not attempt the small swim through around the boulders as even experienced divers are likely to damage the delicate corals – it's much better to enjoy and appreciate the beauty while allowing others to continue to do so after you!
How to dive Frantic Jack:
I have only dived this site a a few times with groups so this site needs much more exploration to work it out better.
Last time here I found that when the current was flowing slightly west out to the open ocean it was great starting our dive at the small rock about 50m east of the southern tip, we headed south to south west down the mild slope and over a sandy patch with garden eels, continue on to 32-35m where you will be treated to very dramatic point and drop off that falls to 50-60m depth, there are some gigantic soft corals to tempt any experienced divers diving on air into the deep bowl here or simply hang out on the drop off and see if you're lucky to experience some larger fish life at this point.  When you have enjoyed this area head with drop off on your right shoulder (north) along the walls edge and ascend along the slope, coral life from the edge of the drop off to the boulders to 12m is predominantly minimal low growth orange soft corals with scattered sea fans and sponges.   There are plenty of coral covered boulders from 12m upwards with lots of gorgeous colourful soft corals, often there will be good fish life around some of these boulders.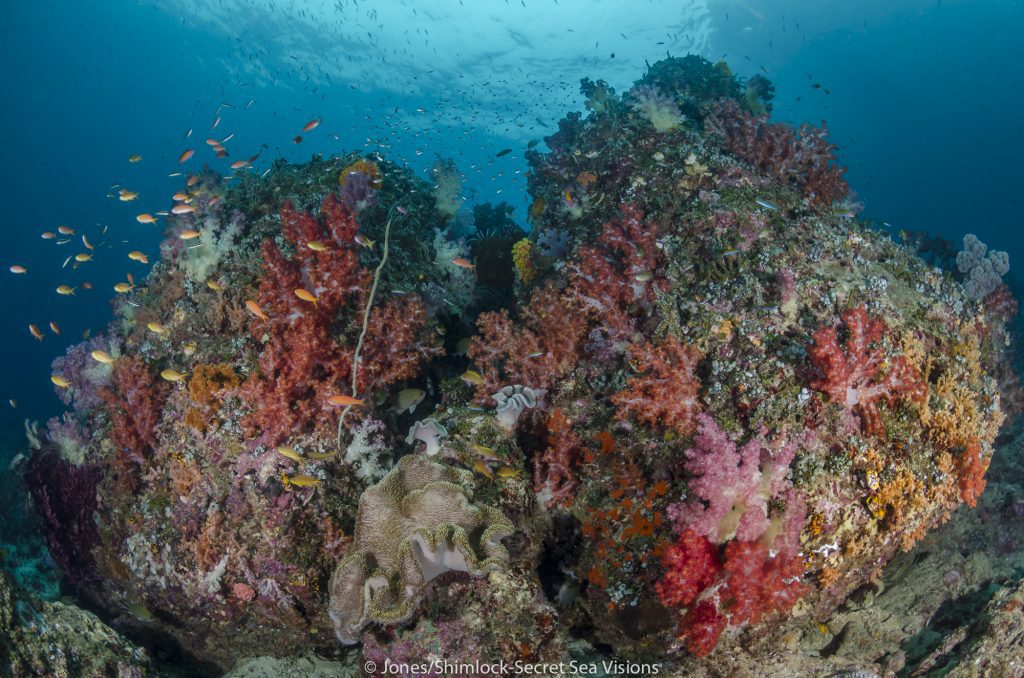 If there is no current you can simply enter on the south west corner. If the current heads south you can sort of reverse the dive above, needs more exploring for sure…
Note:
If the current is too strong to swim against up the slope, keep below the drop off and keep close to the walls edge heading north, the current should go over the top of you allowing you to swim past the strongest flow, away from the main current flow where you can ascend to the shallows.
Photography:
Best with wide angle lens for the scenery. Like most sites there is also macro life for the critter lovers with lots of small photogenic fish species amongst gorgeous coral life with chances to find a few different nudibranch species here too.
Keep me posted as to how you get on here, very keen to hear if there are any more oceanic manta sightings.
Graham Abbott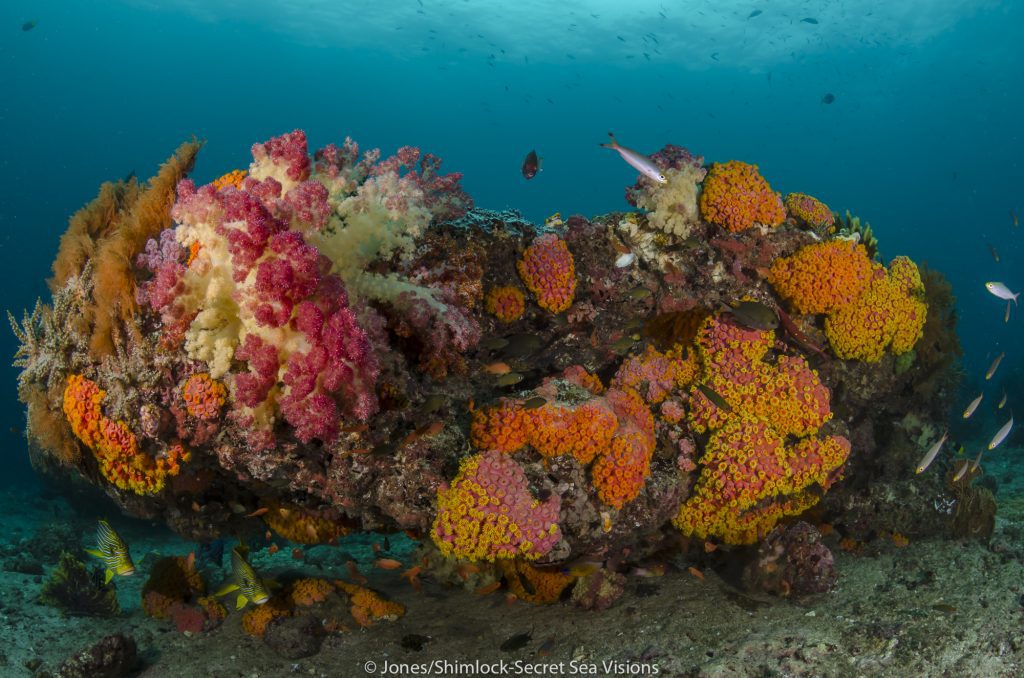 Commentary:
I dove this site on a recent trip and would like to thank Graham for sharing it with the BHS site.  We never saw the "jacks" probably because there was no current.  The site is lovely even without the jacks, however.  The shallow bommies are stunningly beautiful, so it's a great photo-op even if the jacks aren't present.  Plus it's a great option for diving on the outside of Aiduma island, where the water is typically much clearer than on the bay side.  Enjoy the photos and the new dive and let us know what you find.  Burt Jones, the BHS site's co-administrator
Graham Abbott is the founder, director and primary dive guide for Diving 4 Images, Indonesia's premier dive guide service and trip organiser for the underwater photographers and film-makers; be it amateur or pro.
Social Share