Baswedan Award Untuk CI By Wida Sulistyaningrum
Menteri Pendidikan RI Mendampingi Penyerahan Prof.Dr. Hj. Aliyah Baswedan Award Untuk CI
By Wida Sulistyaningrum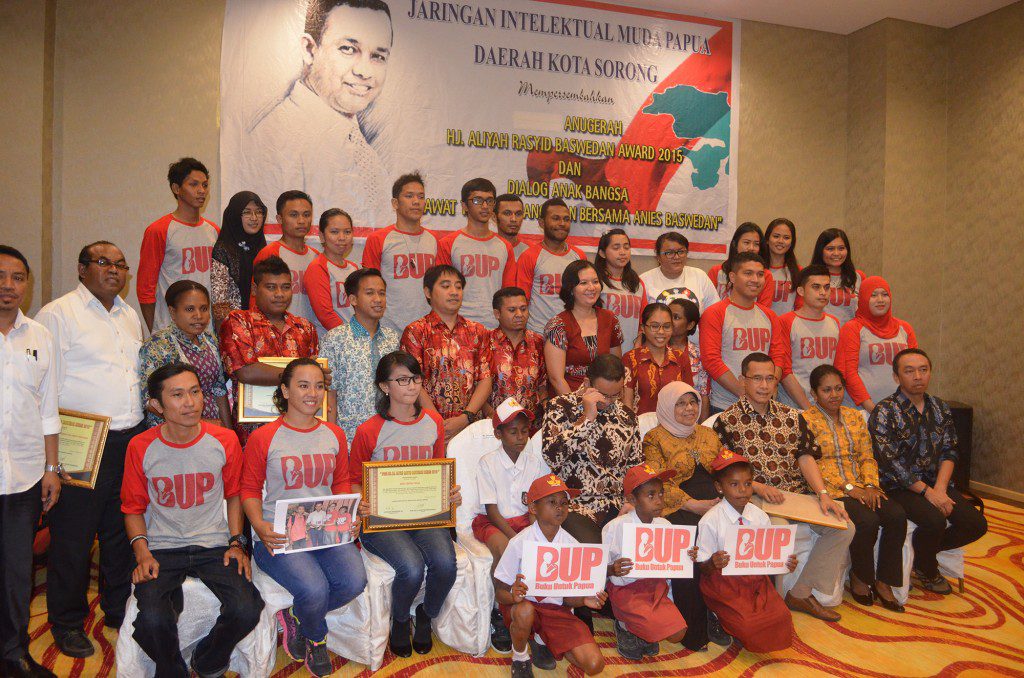 Rabu 5 Agustus 2015, CI Indonesia khususnya program Raja Ampat mendapatkan penghargaan "Prof. Dr. Hj. Aliyah Baswedan Award 2015" dari Jaringan Intelektual Muda Papua Daerah Sorong. CI mendapatkan penghargaan ini atas dedikasi CI dengan sepenuh hati, optimis dan inspiratif untuk menjaga alam titipan generasi penerus di tanah Papua. Penghargaan diserahkan langsung oleh Prof.Dr. Hj. Aliyah Baswedan dan di damping oleh Anis Baswedan, Menteri Pendidikan Dasar, Republik Indonesia. CI sebagai lembaga konservasi yang telah bekerja di Raja Ampat sejak lebih dari 10 tahun lalu dinilai banyak memberikan kontribusi untuk membangun generasi muda di Raja Ampat yang peduli dengan alam. Dalam acara ini, CI diwakili oleh Alberth Nebore, Raja Ampat Senior Corridor Manager Conservation International.
Penghargaan Prof.Dr. Hj. Aliyah Baswedan tahun 2015 ini juga diberikan kepada 24 individu atau lembaga lain yang juga berkontribusi terhadap pengembangan pendidikan di Tanah Papua. Beberapa lembaga konservasi di Raja Ampat yang menerima penghargaan ini diantaranya Yayasan Kalabia Indonesia, The Nature Conservancy, RARE Indonesia dan Pasangan Bupati/Wakil Bupati Raja Ampat.
Selamat untuk CI, Yayasan Kalabia Indonesia, TNC, RARE Indonesia dan Pasangan Bupati/Wakil Bupati Raja Ampat atas penghargaan yang diterima!!
Wida Sulistyaningrum is Conservation International Indonesia's Raja Ampat Communication and Outreach Coordinator.
Social Share